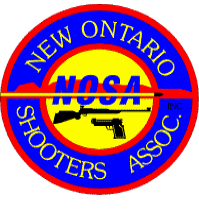 New Ontario Shooters Association
(NOSA)
Thunder Bay Target Shooting Club
For Rifle and Pistol in Thunder Bay, Ontario
The NOSA Thunder Bay target shooting club has shooting ranges located in the City of Thunder Bay for indoor shooting and near Nolalu for outdoor shooting. We have members from many outlying communities as well. Rifle and pistol target shooting activities are available year round.
The "New" in our name relates to the once popular term of New Ontario for this portion of the province. Our shooting club started in 1909 as a rifle long range target shooting club, and incorporated several other local clubs over the years as we expanded our interests to other types of rifle and pistol target shooting.
Purpose of the NOSA Website
NOSA's website is primarily designed to provide news to members about club events and activities including target shooting, our NOSA Junior Shooters Program, competitions, gun shows, safety training, assistance to the shooting public, and much more.
Hopefully others will also find some useful information here and be encouraged to try this enjoyable shooting sport. Be sure to visit the Member Ramblings webpage at left for hunting stories and shooting equipment discussions and advice. Joining this particular Thunder Bay shooting club provides the support and fellowship of some very experienced fine people.
Lady Shooters. New Ontario Shooters Association (NOSA) has a core of active lady shooters in Thunder Bay, both adults and juniors. Any lady who might be interested in target shooting can contact a member of the Executive listed on the Club Contacts page -- link in column at left. We will arrange for one of our members to provide instruction and help you try shooting -- no obligation, just have some good fun, safely.
Contact with the NOSA Club's Executive Members or Webmaster can be done through information on the Club Contacts webpage, where you will also see a link to our Facebook page -- click the Club Contacts link at your left.
Best regards, and always remember to act safely and responsibly,
Banacek -- NOSA Webmaster
General
Northwestern Ontario has a relatively small population scattered throughout a vast area of remote Canadian wilderness. Most towns are one to six hours' drive away from the primary population centre here in the City of Thunder Bay, on the northwest shore of Lake Superior. The shooting sports, along with camping and fishing and boating and other healthy outdoor activities, are very popular here.
Site Updating was last done on 04 December 2023.
For shooters to ponder: "Lost time is never found again."
---
Warning and Disclaimer. Only the most current printed Shooting Rules and Range Standing Orders and Match Standing Orders as issued by the N.O.S.A. Executive are official and they should be read, understood, and followed. If there is any question as to interpretation of a rule, or safety of a practice, immediately ask a member of the Executive or a Range Safety Officer before placing yourself or anyone or anything else at risk. Any activity involving firearms has inherent dangers. Some contents on this website may include personal opinions and experiences or practices that should not be emulated. Everyone viewing this website, or any other website or book or magazine or pamphlet or media source, is cautioned to seek professional advice first about anything written or implied or inferred. Your safety is your personal responsibility.
This site has no recompense from any products or services or businesses that may be mentioned by name.
Copyright © 2023 New Ontario Shooters Association. This site is copyrighted and no content may be reproduced by any means, including electronic, without written permission except for strictly personal use. Other websites wishing to post a link to this site are welcome to do so.
Copyright CorelDRAW © "This product/publication contains images from CorelDRAW © 8 which are protected by the copyright laws of the U.S., Canada and elsewhere. Used under license."