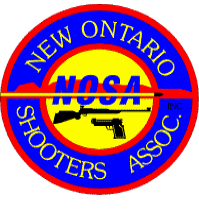 Contacts for New Ontario Shooters Association
NOSA Executive Members and Club Officers
In Person
NOSA Club information can be obtained at the Arnone Shooting Range Inc. (300 Water Street South, Thunder Bay, Ontario) from GMK staff, during GMK Armoury Specialties' normal hours of operation.
By Phone or Email
NOSA President Dana C. for general club information and the Junior Shooters Program (and any subjects not covered by other members below) at (807) 473-9300
NOSA Membership Treasurer/Secretary Bob M. for all membership, A.T.T., and insurance questions at (807) 627-1869
or email bluesharpxxxxtbaytel.net but first change the xxxx into the usual email symbol.
NOSA Vice President, and Special Projects Chairperson Glenn H. for gun shows and public speaking or promotions at (807) 473-4775
NOSA Range and Safety Officers Samantha D.-R. and Chris R. at (807) 626-4003 or email daxterxxxxtbaytel.net; and John Gi. at (807) 767-0279.
NOSA Junior Shooters Program Coordinator Samantha D.-R. for all matters relating to Juniors at (807) 626-4003 or email daxterxxxxtbaytel.net but first change the xxxx into the usual email symbol.
---
NOSA Webmaster (not a member of the Executive) can be emailed about website matters at:
webmasterxxxxnosa-newontarioshooters.org but first change the xxxx into the usual email symbol.
NOSA Email News Updates. The Webmaster also issues periodic email news updates (typically only a few per month) about club activities and other matters of interest to members. If you are not yet on that particular distribution list, just send an email to the Webmaster as above. One technical issue that we have experienced over the years: members with email addresses at their Internet Providers in the Thunder Bay area (like shaw.ca or tbaytel.net) virtually always receive newsletters nearly instantly; email addresses with Live or Hotmail or Sympatico or MSN or Gmail or similar outside providers sometimes delay our newsletters for hours or days, or sometimes never even deliver them. Such providers have intensive spam filters that can sometimes mistake any wide distribution emails as spam.
---
Facebook Page for New Ontario Shooters Association where you can interact with other members about club activities.
---
Warning and Disclaimer. Only the most current printed Shooting Rules and Range Standing Orders and Match Standing Orders as issued by the N.O.S.A. Executive are official and they should be read, understood, and followed. If there is any question as to interpretation of a rule, or safety of a practice, immediately ask a member of the Executive or a Range Safety Officer before placing yourself or anyone or anything else at risk. Any activity involving firearms has inherent dangers. Some contents on this website may include personal opinions and experiences or practices that should not be emulated. Everyone viewing this website, or any other website or book or magazine or pamphlet or media source, is cautioned to seek professional advice first about anything written or implied or inferred. Your safety is your personal responsibility.
Copyright © 2021 New Ontario Shooters Association. This site is copyrighted and no content may be reproduced by any means, including electronic, without written permission except for strictly personal use. Other websites wishing to post a link to this site are welcome to do so.