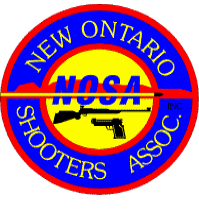 New Ontario Shooters Association (NOSA)
Upcoming Activities or Events
Here find details of the upcoming shooting activities and related events at NOSA, the family-friendly Thunder Bay rifle and pistol shooting club.
There will be more club shoots or activities announced here during the year as arrangements are finalized, so check this page periodically for updates.
---
NOSA Adult and Family Members' Outdoors Shooting at Nolalu in 2023
The NOSA Club Outdoor Shooting Range is known as the Nolalu Shooting Range or the JR Range. It will again be in operation in 2023 for NOSA Club Days Thursday and Friday and Saturday and Sunday from May through the end of October, between the hours of 9:00 a.m. to 10:00 p.m. or darkness.
For detailed information and instructions regarding our Nolalu Range, or any other ranges we use, please read our Range Rules page -- link is in the column at left.
---
NOSA Junior Shooters' Indoors Wednesday Shoots
Our Juniors' fall shooting at the Fish and Game Ranges recommences on 06 September 2023 at 7:00 p.m.
For any questions, please contact our NOSA Junior Shooters Program Coordinator Samantha D.-R. at (807) 626-4003 or email daxterxxxxtbaytel.net but first change the xxxx into the usual email symbol.
---
NOSA Adult Shooters' Indoors Friday Evening Shoots
The indoor shooting for Adult NOSA Members who are also Members of F&G continues at the F&G Ranges every Friday evening from about 6:30 p.m. (Yes this Friday evening shooting is year round; so this is just a reminder.)
NOSA Members (and any guests) while on the F&G grounds shall obey all rules and regulations issued by the TBFG Executive for conduct at this facility. NOSA Members who are also Members of F&G will gain admission using their F&G electronic key fob.
Indoor shooting for rimfire rifles will take place from the building at Range 1 and indoor pistol shooting will take place from the building at Range 8.
A map for the F&G Facility at 260 Pento Road showing the location of its numbered ranges will be found in a link near the bottom of the NOSA website's Range Rules page, and further details for use of the F&G Facility will also be found there.
---
NOSA Club Appreciation Shoot and BBQ at Nolalu Range -- Sunday, 24 Sep 2023

This shoot for all NOSA club members, including Junior Shooters and young family members, will begin at 10:00 a.m. with shooting events, and there will be a BBQ at lunch time. We expect competitions and handing out prizes will be over by 3:00 p.m.
Food and beverages are provided free by NOSA. This annual event is in appreciation of the volunteerism and support shown by all members, whether at special events or just in the day to day help provided to others.
Shooting events are free to participate and will include rimfire (RF) and centerfire (CF) handguns and rifles. Black Powder (BP) firearms may also participate in appropriate centerfire events.
One event is reserved for Junior Shooters and young family members (and for this event, rifles will be provided by NOSA for those Juniors who do not have their own).
Planned Shooting Matches

Adults 20M Centerfire handgun bullseye target (5 or 10 rounds)
Adults 20M .22RF handgun bullseye target (10 rounds)
Adults 20M .22RF handgun bingo target (5 rounds)
Adults 20M .22RF rifle bullseye target (10 rounds)
Adults 20M .22RF rifle bingo target (5 rounds)
Adults 100M Centerfire rifle rested from bench (3 rounds) for group
Juniors 20M .22RF rifle bullseye target (10 rounds)

In fall it's always a good idea to bring along some warm clothing and raingear.
---
Warning and Disclaimer. Only the most current printed Shooting Rules and Range Standing Orders and Match Standing Orders as issued by the N.O.S.A. Executive are official and they should be read, understood, and followed. If there is any question as to interpretation of a rule, or safety of a practice, immediately ask a member of the Executive or a Range Safety Officer before placing yourself or anyone or anything else at risk. Any activity involving firearms has inherent dangers. Some contents on this website may include personal opinions and experiences or practices that should not be emulated. Everyone viewing this website, or any other website or book or magazine or pamphlet or media source, is cautioned to seek professional advice first about anything written or implied or inferred. Your safety is your personal responsibility.
Copyright © 2023 New Ontario Shooters Association. This site is copyrighted and no content may be reproduced by any means, including electronic, without written permission except for strictly personal use. Other websites wishing to post a link to this site are welcome to do so.
Copyright CorelDRAW © "This product/publication contains images from CorelDRAW © 8 which are protected by the copyright laws of the U.S., Canada and elsewhere. Used under license."