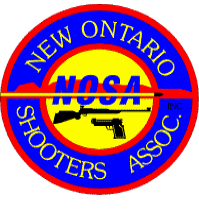 NOSA Junior Shooters in Thunder Bay, Ontario
The New Ontario Shooters Association (NOSA) has an active Junior Shooters Program in Thunder Bay intended to educate and practice junior members in safe and responsible firearms handling and shooting techniques.
The Junior Shooters Program provides a structured coaching program with progress based development and advancement.
Further advantages to the individuals participating in our training program include developing skills of coordination and concentration that will help them in other life activities.
Eligibility and Support for NOSA Junior Shooters
Please feel free to contact the club in regards to your son or daughter taking part in this exciting sport. Parents are not required to have a PAL (Firearms Possession and Acquisition Licence).
Youngsters between the ages of 7 to 17 inclusive are eligible to apply for this training and shooting program. The NOSA Junior Shooters Program coaches will closely monitor the maturity and attention to safety of these junior members. Parental consent to join is mandatory. Parents are expected to attend shooting sessions with the younger children to offer support and encouragement.
The NOSA annual membership fee has been reduced this year from $60.00 to $30.00 due to missed range time due to COVID restrictions for a Junior (children under 18), and runs from mid September to the following May.
Rifles, both air powered and .22 rimfire, as well as ammunition are provided by NOSA.
Location and Training Schedule for NOSA Juniors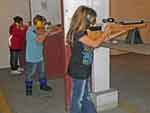 For NOSA Junior Shooters the Club Indoor Shooting starts again this Fall 2021 on 15 September at the Thunder Bay District Fish and Game facilities at 260 Pento Road on Wednesday evenings while the indoor shooting schedule is in effect. That includes all non-holiday Wednesday evenings between 7:00 p.m. and 9:00 p.m. -- usually from mid September through the end of the following April. (In some years there is an extension for May as well.) Click on pictures for a larger view.
Due to security regulations at Fish and Game, their main entrance gate must be locked at all times. Consequently Parents must bring their Juniors to the gate promptly between 6:45 p.m. to 7:00 p.m. when a NOSA Volunteer will have the gate open to admit Juniors and Parents/Volunteers.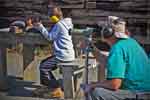 Shooting may also be done at the NOSA Club Outdoor Nolalu Range (a.k.a. JR Range) under adult supervision between 9:00 a.m. and 10:00 p.m. on NOSA Club Days which are Thursdays, Fridays, Saturdays, and Sundays from May 22 through October inclusive. See lots more pictures of NOSA Junior Shooters enjoying their sport on the Recent Activities webpages, accessed through the menu at left.
Guest Speakers and Demonstrations are a feature of the program to introduce participants to the various aspects and disciplines of the shooting sports, and show how what they learn at the program can be applied.
During each NOSA club year, there are also a number of fun shooting competitions and themed shoots (Halloween, Christmas, Easter, and End of Year) held specially for our Juniors. Lots of fun and prizes and treats.
NOSA Instructors for Junior Shooters
Over the years our dedicated NOSA volunteer instructors, both men and women, have developed some very proficient shooters. All our instructors are excellent shooters and work well with youngsters.
Volunteers. If you are interested in volunteering or to assist coaching, please contact:
NOSA Junior Shooters Program Coordinator Samantha D.-R. for all matters relating to Juniors at (807) 626-4003 or email daxterxxxxtbaytel.net but first change the xxxx into the usual email symbol.
---
Warning and Disclaimer. Only the most current printed Shooting Rules and Range Standing Orders and Match Standing Orders as issued by the N.O.S.A. Executive are official and they should be read, understood, and followed. If there is any question as to interpretation of a rule, or safety of a practice, immediately ask a member of the Executive or a Range Safety Officer before placing yourself or anyone or anything else at risk. Any activity involving firearms has inherent dangers. Some contents on this website may include personal opinions and experiences or practices that should not be emulated. Everyone viewing this website, or any other website or book or magazine or pamphlet or media source, is cautioned to seek professional advice first about anything written or implied or inferred. Your safety is your personal responsibility.
Copyright © 2021 New Ontario Shooters Association. This site is copyrighted and no content may be reproduced by any means, including electronic, without written permission except for strictly personal use. Other websites wishing to post a link to this site are welcome to do so.