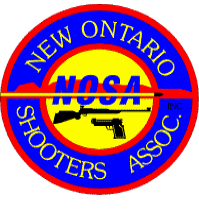 New Ontario Shooters Association (NOSA)
2023 Recent Activities or Events and Pictures
Here find details of the shooting activities and related events at NOSA, the family-friendly Thunder Bay rifle and pistol shooting club. Events or subjects are in approximate date order (usually based on the earliest date if an activity is spread out).
Photos here are by Banacek unless otherwise attributed. This page is also intended to show some of our members' 2023 photos in club and related activities in and about Thunder Bay, Ontario -- or wherever our members travel for competitions or sport. Member photo contributions are much appreciated. And please be kind.
At the end of each calendar year, a particular year's activities and photos will still be available on its own NOSA page. Click on the year desired in the following table.
Nolalu Range Improvement Projects, pictures and text, during a particular year can be seen on the individual year pages above, but for your convenience several years of such projects have also been gathered together here on a summary webpage.
NOSA Members' Adventures and Hunts are similarly reported in each year's activities, but prior years have also been gathered here in a summary webpage.
Photos on these web pages are optimized for viewing at the low resolution of a computer monitor. If you wish to print particular photos, identify them in an email to the Webmaster, and he will email you a higher resolution version. If you have an objection to a particular image of yourself or your family member, send an email to the Webmaster and that image or the complete photo will be removed from the website.
Spelling of Names. We try hard to spell folks' names correctly but errors can creep in. Please advise any corrections needed.
---
Click on any individual images here to see a larger view.
---
NOSA Annual General Meeting -- Sunday, 08 January 2023

Location. NOSA's Annual General Meeting (AGM) was held from 1:00 p.m. to 3:00 p.m. at the Slovak Legion, 801 Atlantic Ave., Thunder Bay. Refreshments were provided.
This AGM's agenda included presentation of the NOSA annual budget and discussion of club business and election of club officers. The current club officers are listed on the Club Contacts webpage (link in column to left).
The importance of club volunteers was emphasized for the continued success of our club programs and events. Please seriously consider helping out the various persons listed on the Club Contacts page; even helping with just one or two activities will make a big difference.
A question was raised as to whether the four days per week during the shooting season at Nolalu were being sufficiently used. It was decided that the Nolalu daily use sign-ins would be monitored in 2023 and this issue would be discussed again at the 2024 AGM.
Persons who are not continuing their NOSA membership in 2023 are requested to return their club Nolalu key to Dana or Bob or any of the Club Contacts (Club Contacts link is in column to left).
NOSA Adult and Family Membership Renewals become due effective 01 January for 2023. More information on memberships can be seen on the About Us page (link in column to left) and if you have more questions please contact Bob or Dana directly (Club Contacts link is in column to left).
---
NOSA Members' Adventures and Hunts -- 2023
Every year we feature some of the members' photos of their recent outdoor adventures -- sometimes from their hunts, but mostly candid photos of wildlife and scenery that they have encountered and enjoyed while just observing through a camera lens. We're looking forward to seeing some new photos.
NOSA Member Photo Submissions. It helps me here if photographs submitted are mostly under 6 Megabytes in file size, but larger will still be okay. Note: special pictures like group shots or panoramas often turn out better if processing here begins with an even larger file size.
If you have access to a photo software program, the first editing step (always) is to make a copy with a new name to work on. [Keep the original file safe and untouched!] Crop the copy photo to get rid of unnecessary background. Then fix light levels. Finally save as a jpg file. Free programs that can improve photos and resize them include: Paint.NET (for Windows) which is simple to use and has many useful features; another very capable free choice is GIMP, GNU Image Manipulation Program, that is available for Windows, Apple, or Linux operating systems.
If you are not comfortable using photo programs, just email a copy of the picture just as it came out of the digital camera and I'll do any adjustments needed here. If you use a film camera and paper prints, loan me a print and I'll scan it for the website.
Email your pix as attachments to:
newontarioshootersassociationxxxxtbaytel.net
but first change the xxxx into the usual email symbol.
---
Warning and Disclaimer. Only the most current printed Shooting Rules and Range Standing Orders and Match Standing Orders as issued by the N.O.S.A. Executive are official and they should be read, understood, and followed. If there is any question as to interpretation of a rule, or safety of a practice, immediately ask a member of the Executive or a Range Safety Officer before placing yourself or anyone or anything else at risk. Any activity involving firearms has inherent dangers. Some contents on this website may include personal opinions and experiences or practices that should not be emulated. Everyone viewing this website, or any other website or book or magazine or pamphlet or media source, is cautioned to seek professional advice first about anything written or implied or inferred. Your safety is your personal responsibility.
Copyright © 2023 New Ontario Shooters Association. This site is copyrighted and no content may be reproduced by any means, including electronic, without written permission except for strictly personal use. Other websites wishing to post a link to this site are welcome to do so.