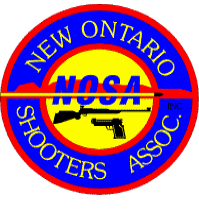 New Ontario Shooters Association (NOSA)
2021 Activities or Events and Pictures
Here find details of the shooting activities and related events at NOSA, the family-friendly Thunder Bay rifle and pistol shooting club. Events or subjects are in approximate date order (usually based on the earliest date if an activity is spread out).
Photos here are by Banacek unless otherwise attributed. This page is also intended to show some of our members' 2021 photos in club and related activities in and about Thunder Bay, Ontario -- or wherever our members travel for competitions or sport. Member photo contributions are much appreciated. And please be kind.
At the end of each calendar year, a particular year's activities and photos will still be available on its own NOSA page. For other years, see the top of the current Recent Activities webpage using the link at left.
Photos on these web pages are optimized for viewing at the low resolution of a computer monitor. If you wish to print particular photos, identify them in an email to the Webmaster, and he will email you a higher resolution version. If you have an objection to a particular image of yourself or your family member, send an email to the Webmaster and that image or the complete photo will be removed from the website.
---
Click on any individual images here to see a larger view.
---
NOSA Indoor Shooting at Thunder Bay Fish and Game Ranges -- 16 Sep 2020 to COVID Lockdown in early 2021.
The NOSA Juniors started using the Fish and Game Ranges for their Wednesday evening indoor shoots on 16 September, and the NOSA Adults started using them for their Friday evening indoor shoots on 02 October.
See the website's Range Rules page for more information and to see a map of the F&G facility.
https://nosa-newontarioshooters.org/range_rules.html
Information for NOSA Members' Use of Fish and Game Ranges
NOSA has arranged to conduct indoor shooting at the large Thunder Bay District Fish and Game facility (variously referred to here as TBFG or F&G or Fish and Game) at 260 Pento Road which is off Government Road.
NOSA Members (and any guests) while on the TBFG grounds shall obey all rules and regulations issued by the TBFG Executive for conduct at this facility.
At the conclusion of shooting, members will gather up spent shells and throw out any garbage and generally leave any range in a tidy state.
NOSA Adult Shooters
For Fall 2021, starting Friday 01 October, NOSA has arranged to conduct further indoor Adult shooting at the large Thunder Bay District Fish and Game facility at 260 Pento Road.
On a Friday evening during the scheduled calendar period available to this club, NOSA Adult members will gain admittance through the F&G Main Gate using their current NOSA key. They shall lock that gate immediately after passing through, when coming into, and when departing, the F&G Facility. They will sign in and out using the NOSA attendance book inside the desk at the Main Gate. They will use #1 Range of 50 yards for rimfire rifles or #8 Range of 10 metres for pistols.
A map for the F&G Facility showing the location of its numbered ranges will be found in a link near the bottom of the NOSA website's Range Rules page, and further details for use of the F&G Facility will also be found there.
NOSA Junior Shooters
For Fall 2021, starting Wednesday 15 September NOSA has arranged to conduct further Juniors' shooting at the large Thunder Bay District Fish and Game facility at 260 Pento Road. On the Juniors' Wednesday shooting nights, the parents must bring them to the entrance gate there promptly between 6:45 and 7 p.m., when volunteers will have the gate unlocked.
Due to Thunder Bay being in COVID constraints, the Junior Shooters Program has changed its procedures in order to keep our program running.
We are only allowed 10 people in our Range One building at one time. So for the weeks going forward:
When the Jrs arrive they will Sign In and find out what line they are on.
They will then return to their Parentís vehicle to wait in the cars with their Parents until their line is called.
We ask Parents to park so you can see the range door.
Samantha will hold up the line number being called.
When the Jrís line is called they will proceed into the range.
Parents are asked to please remain in their vehicles.
We are going to use both sides of Range One, setting up air on one side and .22RF on the other. 5 Jrs per line will have a short class, then shoot air, then .22RF. That line of Jrs then will go home. Samantha will score the targets and give them to the Jrs the following week.
We ask that Juniors supply their own masks; they will all be assigned a bag with safety glasses and hearing protection to take care of. It will be their responsibility to bring these items weekly to Jr shooters. All supplied firearms will be wiped down between shooters.
---
Ontario Government Restrictions Due To COVID-19
2021 commenced with the continued uncertainty as to how the pandemic progressed and how the Ontario Government consequently placed various changing restrictions on the population (and our ability to target shoot on our ranges) from limiting the number of participants in buildings to a complete lock down where folks had to stay in their homes except when on essential tasks. That was frustrating at times but we'll get through this period.
On 19 February 2021 NOSA Adults got back to shooting from indoors at Fish and Game with social distancing and masks. Unfortunately a viral outbreak in the Thunder Bay area resulted in a new government lockdown commencing 01 March and all NOSA shooting was halted until further notice.
Junior Shooters were originally intended to commence again on Wednesday 24 February but a large number of COVID-19 cases in the local schools has resulted in the decision to postpone their shooting start until further notice, in the interest of their safety.
Fortunately our regular outdoors shooting at Nolalu was later authorized to begin again starting 22 May 2021, and will continue until end October 2021.
Indoor shooting recommenced for Juniors at F&G Wednesday 15 September and for Adults Friday 01 October.
---
Outdoor Shooting at Nolalu Range -- May through October 2021
Most of the reports recorded in this section will be from evenings while shooting with the Thursday Night Irregulars -- an informal regular gathering of club members. Any current NOSA Member is welcome. Besides firing your regular hardware, these evenings often present the opportunity to see some truly interesting firearms, sometimes significant antiques, and sometimes brand new models. Folks often bring snacks and always share.
On 03 June we were treated to see, hold, and perhaps shoot a .32-20 Colt Police Positive Special revolver (dating from about the 1930's) -- beautiful and accurate. That same evening another member turned up with a shiny new Pedersoli Rolling Block Mississippi Classic rifle chambered in .357 Magnum.
On 10 June a beautiful .50 caliber flintlock "Poor Boy" from Tennessee Valley Muzzleloading made its shooting debut and the smoke was impressive. The standard maple stock was actually a very well striped grade.
On 17 June a pristine Mosin-Nagant rifle in 7.62X54mmR came out to play. We hope to see more antique military varieties in future.
On 24 June three wartime 98 Mausers turned up that had been rebarreled. The first had a heavy target barrel in 6.5X55mm Swede and aperture sights and new stock. The others were Czech conversions to 7.62X51mm NATO that had kept their military open sights and stocks.
On 15 July a venerable Anshutz Match 54 in .22LR came to play at 100 yards with its Hawke 10-50X60 scope.
Click on the individual images here to see a larger view.
---
NOSA Club Appreciation Shoot and BBQ at Nolalu Range -- Sunday, 12 Sep 2021

This shoot for all NOSA club members, including Junior Shooters and young family members, began at 10:00 a.m with shooting events, and there was a delicious BBQ at lunch time presided over by Master Chef Bob M. We also very much appreciated the organization of the shoot and prizes gathered by Dana C. and the tireless assistance of Samantha D-R. and Chris R. in issuing and marking targets. Chris was also very much present behind the shooting line when folks needed any assistance.
Food and beverages were provided free by NOSA. This annual event is in appreciation of the volunteerism and support shown by all members, whether at special events or just in the day to day help provided to others.
There were nice prizes awarded to the top three winners in individual events, but this year we also had the new Warren Wanson Memorial Award. Yes we do miss him a lot, especially at these shoots where he presided for many happy years.
Shooting events were free to participate and included rimfire (RF) and centerfire (CF) handguns and rifles. [Black Powder (BP) firearms could have participated in appropriate centerfire events, but none turned up this year.]
Shooting Matches and 1st 2nd 3rd Place Winners were:
Adults 20M CF handgun bullseye target Bob J., Jarrett J., Dana C.
Adults 20M .22RF handgun bullseye target Bob J., Dana C., Jarrett J.
Adults 20M .22RF handgun bingo target Dana C., Jordan R., Cassidy J.
Adults 20M .22RF rifle bullseye target George H., Jordan R., Samantha D-R.
Adults 20M .22RF rifle bingo target Bob M., George H., Billy K.
Adults 100M Centerfire rifle rested from bench for group Ron W., Cassidy J., Chris R.
Adults 100M Centerfire rifle while standing for score Jordan R., Jarrett J., George H.
The first annual Warren Wanson Memorial Award was won by Jeff B.
Click on the individual images here to see a larger view. Included are several wide-angle black and white photos taken thanks to Bill K.
Annual General Meeting 12 September at Nolalu Range
Prior to interruptions by COVID to our regularly scheduled club events, the NOSA Annual General Meeting routinely would have been held one week after our Spring Gun Show. Obviously that was impossible this year. Consequently we held an interim meeting outdoors this year, as we did in 2020, at the BBQ Shoot after the shooting events. Treasurer Bob M. presented his financial report up to date for 2021. There was some discussion as to the structure of our current and future relationship with Thunder Bay Fish and Game and its status is still in talks with TBFG; essentially we expect to continue with the current relationship through 2022. The current NOSA Executive was acclaimed to continue until the 2022 AGM.
---
NOSA Junior Shooters' Christmas Shoot 15 December 2021
There were fine snacks at this traditional fun shoot.
Congratulations to the top three shooters: 1 Maria, 2 Walker, 3 Jennie.
Click on the image for a larger view.
---
NOSA Adults' Christmas Shoot 17 December 2021
There were lots of tasty snacks including Chef Bob M's famous chili.
There were also prizes for our usual Christmas shooting events, and the 1st through 3rd place winners in each event were:
.22 RF Rifle Target -- Ron W., Mark W., Chris R.
.22 RF Rifle Bingo -- Chris R., Dana C., Samantha D.-R.
CF Pistol Target -- Chris R., Tom S., Dana C.
.22 RF Pistol Target -- Tom S., Laura Z., Joe Z.
.22 RF Pistol Bingo -- Jordan R., Dana C., Lorin M.
Ron W. was the winner of the new John Aarnio Memorial Trophy.
---
NOSA Members' Adventures and Hunts -- 2021
Every year we feature some of the members' photos of their recent outdoor adventures -- sometimes from their hunts, but mostly candid photos of wildlife and scenery that they have encountered and enjoyed while just observing through a camera lens.
On 15 February a couple of Coyotes passed through my yard. Hadn't seen any for the past two years.
On 08 March this Bald Eagle spent some time in my yard, and the nearby crows remained very quietly on their branches.
In April, Wayne Sm. provided a photo of a Short-Tailed Weasel in winter white coat who was checking out a bag of commercial animal bedding. (Do they read?) Then in June he had a fine Lynx visit his garden.
On July 15 we were visited on the range by this Compton Tortoiseshell Butterfly.
In September Wayne Sm. took photos on his property of a resident Toad, as well as fabulous views from his mountain of a rainbow and a sunrise.
In November Brian W. sent us a photo from his party's successful Grouse Hunt.
And J.P.F. acquired this splendid Whitetail Buck.
In December Bob M. took a fine Moose.
Click on the individual images here to see a larger view.
---
NOSA Member Photo Submissions. It helps me here if photographs submitted are mostly under 6 Megabytes in file size, but larger will still be okay. Note: special pictures like group shots or panoramas often turn out better if processing here begins with an even larger file size.
If you have access to a photo software program, the first editing step (always) is to make a copy with a new name to work on. [Keep the original file safe and untouched!] Crop the copy photo to get rid of unnecessary background. Then fix light levels. Finally save as a jpg file. Free programs that can improve photos and resize them include: Paint.NET (for Windows) which is simple to use and has many useful features; another very capable free choice is GIMP, GNU Image Manipulation Program, that is available for Windows, Apple, or Linux operating systems.
If you are not comfortable using photo programs, just email a copy of the picture just as it came out of the digital camera and I'll do any adjustments needed here. If you use a film camera and paper prints, loan me a print and I'll scan it for the website.
Email your pix as attachments to:
newontarioshootersassociationxxxxtbaytel.net
but first change the xxxx into the usual email symbol.
---
Warning and Disclaimer. Only the most current printed Shooting Rules and Range Standing Orders and Match Standing Orders as issued by the N.O.S.A. Executive are official and they should be read, understood, and followed. If there is any question as to interpretation of a rule, or safety of a practice, immediately ask a member of the Executive or a Range Safety Officer before placing yourself or anyone or anything else at risk. Any activity involving firearms has inherent dangers. Some contents on this website may include personal opinions and experiences or practices that should not be emulated. Everyone viewing this website, or any other website or book or magazine or pamphlet or media source, is cautioned to seek professional advice first about anything written or implied or inferred. Your safety is your personal responsibility.
Copyright © 2021 New Ontario Shooters Association. This site is copyrighted and no content may be reproduced by any means, including electronic, without written permission except for strictly personal use. Other websites wishing to post a link to this site are welcome to do so.