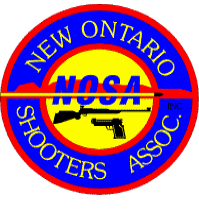 New Ontario Shooters Association (NOSA)
2020 Activities or Events and Pictures
Here find details of the shooting activities and related events at NOSA, the family-friendly Thunder Bay rifle and pistol shooting club. Events or subjects are in approximate date order (usually based on the earliest date if an activity is spread out).
Photos here are by Banacek unless otherwise attributed. This page is also intended to show some of our members' 2020 photos in club and related activities in and about Thunder Bay, Ontario -- or wherever our members travel for competitions or sport. Member photo contributions are much appreciated. And please be kind.
At the end of each calendar year, a particular year's activities and photos will still be available on its own NOSA page. For other years, see the top of the current Recent Activities webpage using the link at left.
Photos on these web pages are optimized for viewing at the low resolution of a computer monitor. If you wish to print particular photos, identify them in an email to the Webmaster, and he will email you a higher resolution version. If you have an objection to a particular image of yourself or your family member, send an email to the Webmaster and that image or the complete photo will be removed from the website.
---
Click on any individual images here to see a larger view.
---
NOSA Indoor Shooting at Arnone Range -- 18 Sep 2019 through 13 March 2020
The fall to spring indoor shooting schedule began at Arnone Range:
--- on Wednesday, 18 Sep 2019 for Junior Shooters;
--- on Friday, 20 Sep 2019 for Adult Shooters.
Normal Spring indoor shooting was cancelled in late March due to the COVID-19 pandemic and new government restrictions on non-essential business and club activities.
---
NOSA Adult Lady Members' Valentines' Shoot -- Friday, 14 February 2020

The Adult Ladies who are individual members or part of a family membership had a fun rifle and pistol shoot on February 14.
There were individual events for centerfire pistols and rimfire pistols and rimfire rifles. There was an additional mystery bingo shoot, for which either a rimfire pistol or rimfire rifle could be used. There were also mystery prizes.
There were nice prizes won by the ladies, and fine goodies to be eaten.
Events -- 1st, 2nd, 3rd, and mystery winners (where applicable) were:
CF Hand Gun -- Samantha, Rochelle, Charlene;
RF Hand Gun -- Charlene, Samantha, Rochelle, Holly;
RF Rifle -- Samantha, Charlene, Rochelle;
Bingo Target -- Charlene, Rochelle, Laura, Holly.
---
NOSA Gun Show in Thunder Bay -- CANCELLED 21 & 22 March 2020

Our annual spring gun show, which was scheduled for the above dates, was cancelled due to the Legion facility's sudden cancellation of very large crowd venues, in light of public health concerns regarding the COVID-19 virus pandemic.
Traditionally our Annual General Meeting is held one week later, but it was also postponed.
---
NOSA Junior Shooters' Wednesday Shoots -- POSTPONED
Due to parental concerns about the COVID-19 virus, NOSA cancelled Wednesday evening shoots starting with 18 March 2020 until further notice.
---
NOSA Adult Shooters' Indoor Friday Shoots -- POSTPONED
Because of COVID-19: TEMPORARY CANCELLATION OF RANGE ACTIVITY. All NOSA indoor shooting and club activities were postponed until a future date to protect the health of all our members.
---
Outdoor Shooting at Nolalu Range -- June through September 2020
The COVID-19 pandemic resulted in all indoor and outdoor ranges in Ontario being closed in March 2020. Our Nolalu Ranges were reopened on 4 June, contingent upon adopting social distancing and other safety protocols.
On 4 June the NOSA informal group called the Thursday Night Irregulars (anyone in NOSA can attend) were back at Nolalu and folks got to see a Remington Lee Model 1882 rifle in .45-70. Yes that was a predecessor of the famous Lee Enfield line.
On 18 June we were treated to examine an antique Whitney Kennedy rifle in .45-60 that is in beautiful condition.
On 25 June we got to see a replica carbine in .38-55, an original ArmaLite AR-7 Explorer, a Martini from 1889 in .303 British, and an incredible Stevens Tip-Up in .38-55 that was also about 130 years old but in near mint condition inside and out.
On 02 July that Whitney Kennedy .45-60 was back and Gerry had loaded a suitable case with 60 grains of black powder. Jordan used it to punch a neat hole at 100 metres near target center. Also present were an 1884 Mark 2 Enfield revolver in .476 that had been issued to the N.W.M.P. (North West Mounted Police), and a Webley revolver in .455 that was very accurate at 10 metres, as tested by Gerry and myself. One photo shows the difference in ejection systems for these two revolvers.
On 09 July we witnessed an old Savage Model 23D in .22 Hornet punch close holes at 100 metres even without a scope. Very, very nice condition. It was also Samantha's birthday and Jordan made everyone delicious individual blueberry-raspberry cheesecakes.
On 23 July we had more Irregulars than usual to enjoy smokies on the BBQ by chef Tim along with Gerry's pepperettes and Jeff's rhubarb cake and Janice's raspberry cookies. Older hardware included a sixties vintage Savage 24DL with Singlepoint sight in .22 Win Mag and 20 gauge, a lovely Tikka in .223 Remington, and an old Danish target Mauser 98 in 6.5X57mm.
On 30 July some of us had the fun opportunity to fire a group with a genuine M1 Carbine, using ammunition made during the Korean War. Also present was a full length Carcano Rifle being test fired. This rifle's condition suggests that it was probably arsenal refurbished at some point. Naturally Gerry BBQ'd some jumbo hotdogs and we also ate Jeff's and Janice's bakings. Yum!
On 08 August we were pleased to see a high quality Schultz & Larsen .22 RF target rifle, as well as a Winchester 9422 in .22 WRM and a fine Winchester Model 100 semi-auto in .308 Win. This day Samantha kindly provided and BBQ'd burgers, then topped with Cheddar or Swiss cheeses. Janice had baked a tasty banana cake. Yes you gotta attend to enjoy this range activity.
On 13 August George H. kindly gifted a custom mug he had commissioned to everyone present. A Savage .338 Lapua proved it bites at both ends. A Pedersoli Sharps in .45-120 barked paper-patched bullets with black powder loads. Another 98 Mauser target conversion turned up and was immediately sold. So too a fine early Sako in .222 Rem. Samantha provided scrumptious pizzas, and Jeff and Janice provided delicious cakes.
Not a Mug Shoot -- 20 August. Gerry K. organized what was originally to be a rimfire mug shoot at Nolalu, to neatly eradicate all the excess coffee mugs that had built up at GMK. Turned out that such could possibly become a richocet hazard; so the shoot was changed to frangible orange clay pigeons in front of the backstop at 100 metres. Our thanks to Gerry for running this shoot and providing corn treats to the many contestants and spectators. This shoot with any rimfire rifle was strictly for fun. All contestants chose to shoot from the bench using just elbows for support.
--- We have a photo of this shoot's first place winner George H. taken during his pre-shoot meditation. Congratulations to George, and to Bob J. who came in second. We also have a photo of the CZ full stock rifle that Bob J. used.
On 27 August we watched someone shoot a Savage Model 340 bolt action rifle in .30-30 Winchester (made from 1950 to 1985). Later we saw a real piece of history bark again -- an original U.S. military Springfield Model 1888 trap door action single shot rifle. The usual food goodies were enjoyed.
On 10 September, present was a customized Remington Model 600 rifle featuring a new heavy bull barrel chambered for the 7mm-08 Remington cartridge. We also admired a couple of WW1 vintage pistols: an original Colt Model 1911 (not the A1) alongside a Smith & Wesson Model 1917 revolver using moon clips for its .45ACP cartridges.
Click on the individual images here to see a larger view.
---
NOSA Annual BBQ Shoot -- Sunday, 13 Sept 2020

Our 2020 annual members' BBQ and Shoot at Nolalu Range was held from 10:00 a.m. to early afternoon on Sunday, 13 September. There were shooting events for rimfire and centerfire pistols and rifles, and fine prizes were awarded to winners. This BBQ was free and was completely delicious thanks to our master chef, Bob M.
Results for the various shoots, with 1st, 2nd, 3rd place winners, as applicable:
CF Handgun: Bob J., Jarrett J., Don K.;
RF Rifle: George H.,Cassidy J, Ron W.;
CF Group: Vern K., Ron W., Barry E.;
RF at 100: Cassidy J., Bob J.;
RF Rifle Bingo: Jordan R., Samantha D-R, Doug J.;
RF HG Bingo: Bob J., Dana C.;
RF HG Target: Bob J., Doug J., Jarrett J.
Draw: Brenton T.
Click on the individual images here to see a larger view.
---
NOSA 2020 Annual General Meeting -- Sunday, 13 Sept 2020
NOSA's Annual General Meeting (AGM) was postponed from its original date of 29 March due to temporary closure of the original in-city location because of COVID-19 concerns about public gatherings. We took advantage of this open air BBQ venue at Nolalu to hold our AGM there during the same time period as the BBQ Shoot.
At this AGM our Treasurer Bob M. presented his annual financial report, and the NOSA Executive announced the new arrangements for our shooting this fall at the Thunder Bay District Fish and Game Association ranges. Details can be seen on our Range Rules page and the Range Schedules page, along with the link to a handy map for their many numbered ranges.
Starting Dates for shooting at F&G for our members are Wednesday 16 September for Junior Shooters and Friday 02 October for Adult Shooters.
---
NOSA Junior Shooters' Turkey Shoot -- 7 October 2020

We had an anonymous generous donation of eight $5 Dairy Queen gift cards for prizes! We were able to have two age group categories 12-17 and 7-11 with two mystery prizes!
Winners were:
Age Group 12-17: Jordan, Jennie, and Jake;
Age Group 7-11: Ben, Maria, and Rhys;
Mystery Prizes: Courage, Teague.
Click on the individual images here to see a larger view.
---
NOSA Adult Christmas Shoot -- Fridays, 11 and 18 December 2020
NOSA held a fun Christmas Shoot for Adults at Thunder Bay Fish and Game Ranges over these two evenings. There were 5 events to enter, any one event or all of them. Each event had nice prizes for winning participants.
On Range 1 for rifles: .22 RF Target and .22 RF Bingo. Targets were attached to the 50 yard distant target frames, and shooting was done rested on the benches. (Resting of the rifle could be done by using elbows, or using a bipod, or any variety of bench rest device.)
On Range 8 for unrested pistols while standing: Centerfire Target, .22 RF Target, and .22 RF Bingo.
The shooting results are shown in each event for the top scores of 1st, 2nd, 3rd place, and for winner of the Mystery Prize.
Handgun CF Target: Tom S., Leila F., Chris R., and Samantha R.
Handgun RF Target: Tom S., Dana C,. Leila F., and Ron W.
Handgun Bingo: Ron W., Samantha R., George H., and Chris R.
Rifle RF Target: Don M., Steve B., Chris R., and Dana C.
Rifle RF Bingo: Steve B., Don M., Leila F., and Samantha R.
And hey, we really did have a lot of fun!
---
NOSA Junior Shooters Christmas Shoot -- Wednesday, 16 December 2020
This Shoot had the following results:
12 and up: 1st Jennie F., 2nd Jordan R., 3rd Courage T.
11 and under: 1st Sam P., 2nd Rhys T., 3rd Merric
Mystery Prize: Cohan
Samantha thanks all the participants and congratulates the winners, with prizes being handed out on 23 December. And yes they all had fun.
---
NOSA Members' Adventures and Hunts -- 2020
On 5 March these two Whitetail Deer, daughter and mother, again visited my yard to nibble on trees and bushes and moss, and they looked pretty healthy now that most of the winter is past.
For a few days at the end of July it was possible to view the Comet Neowise (which comes nearby only once every 6000 years or so) and Wayne Sm. kindly provided a photo taken from his mountain.
On 01 August, while I was writing a newsletter, a Groundhog in my yard tolerated the close company of a baby Crow who was following him for several minutes, despite the occasional attempts by the baby to pluck out some fur.
On 23 August a healthy young Black Bear climbed the hill in my yard.
On 6 September another Black Bear climbed Don M.'s apple tree.
On 7 September a Cross Fox with very distinct markings dropped by my yard.
Click on the individual images here to see a larger view.
---
Warning and Disclaimer. Only the most current printed Shooting Rules and Range Standing Orders and Match Standing Orders as issued by the N.O.S.A. Executive are official and they should be read, understood, and followed. If there is any question as to interpretation of a rule, or safety of a practice, immediately ask a member of the Executive or a Range Safety Officer before placing yourself or anyone or anything else at risk. Any activity involving firearms has inherent dangers. Some contents on this website may include personal opinions and experiences or practices that should not be emulated. Everyone viewing this website, or any other website or book or magazine or pamphlet or media source, is cautioned to seek professional advice first about anything written or implied or inferred. Your safety is your personal responsibility.
Copyright © 2020 New Ontario Shooters Association. This site is copyrighted and no content may be reproduced by any means, including electronic, without written permission except for strictly personal use. Other websites wishing to post a link to this site are welcome to do so.