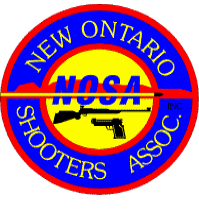 New Ontario Shooters Association (NOSA)
2010 Activities or Events and Pictures
Here find details of the shooting activities and related events at NOSA, the family-friendly Thunder Bay rifle and pistol shooting club. Events or subjects are in approximate date order (usually based on the earliest date if an activity is spread out).
This page is also intended to show some of our members' 2010 photos in club and related activities in and about Thunder Bay, Ontario -- or wherever our members travel for competitions or sport. (See near bottom of this page.)
At the end of each calendar year, a particular year's activities and photos will still be available on its own NOSA page. For other years, see the top of the current Recent Activities webpage using the link at left.
Photos on these web pages are optimized for viewing at the low resolution of a computer monitor. If you wish to print particular photos, identify them in an email to the Webmaster, and he will email you a higher resolution version. If you have an objection to a particular image of yourself or your family member, send an email to the Webmaster and that image or the complete photo will be removed from the website.
---
Click on the individual images here to see a larger view.
---
Some Club Pictures up to 19 May 2010
---
NOSA Gun Show in Murillo -- 13 and 14 March 2010

The Club hosted gun show in Murillo -- masterfully coordinated by Glenn H. -- was a great success this year with very strong attendance by the public. The unusually warm weather this year probably contributed to a record attendance. Many thanks to all the vendors who participated including several from out of town, and a big thank you to the large number of club members who volunteered to help out from the time of setup on Friday to the Sunday tear down. And particular thanks are owed to Bob M. and his valiant kitchen volunteers Warren W. and Don K. who kept us all very well fed and happy. Dana C. and Anna F. were interviewed by the Chronicle Journal for an article featuring the Club and Junior Shooters program.
A very big thanks also to the generous donors of the door prizes: Pizza Hut Thunder Bay for a pizza a month for a year (thanks to Joe C. for arranging); GMK Armoury Specialties for a Tasco ProPoint scope (thanks to Gerry K.); A1 Quality Heating for a rifle bipod (thanks to Bob M.); and L.A.R. Arms for a knife sharpening jig and trigger lock (thanks to Rick G.).
---
NOSA Annual General Meeting -- Sunday, 28 Mar 2010

NOSA's Annual General Meeting (AGM) was held at 1:00 p.m. at the Airlane Hotel in Thunder Bay. During the discussions it was determined that there was a need to have another meeting to complete the business arising, as well as amend the constitution. Consequently a NOSA Special General Meeting was scheduled for 7:00 p.m. on Friday 30 April 2010 in the training room at Arnone Shooting Range Inc.
Membership Renewal and New Range Key. A reminder to renew your NOSA membership if you have not yet done so. Also, there is a new key being issued for the outdoor range that will be needed for access.
---
NOSA Special General Meeting -- Follow-Up To Earlier Meeting

A NOSA Special General Meeting took place at 7:00 p.m. on Friday 30 April 2010 in the training room at Arnone Shooting Range Inc. Results include the following items.
The budget was approved for NOSA's next 2010 - 2011 fiscal year including:
--- an Operating Budget of about $12,722.44 (subject to variance); and
--- a Capital Expense Proposal of:
--- $5,000.00 to build a structure about 20' X 50' with metal roof over the rifle positions at the Nolalu Range; and
--- $2,500.00 to purchase new air rifles and a .22 Anschutz for the Junior Shooters.
The proposed amendment to the constitution to change the amount of discretionary money that may be approved by the NOSA Executive alone in an emergency situation seemed technically unnecessary as an amendment to raise the original $500.00 to $1500.00 had apparently been passed in a prior year; nevertheless that larger figure for the constitution was confirmed by a new vote.
It was proposed and passed to create the position of Club Communications Officer and Banacek was voted in to provide the functions of webmaster and disseminating club news.
Members were reminded of their responsibilities to help and encourage new or prospective members. Members are also expected to contribute reasonable time and energy to keep our range facilities clean, and to help with improvement work projects like erecting the new shelter structure. Teamwork is vital to maintain a successful and energized club.
It is likely that NOSA and Gerry K. will partner in hosting an August Gun Show at Kakabeka Falls this year. Details to be worked out.
Membership Renewal and New Range Key. There was a reminder to renew memberships and receive the new range key (necessary starting in May for the two gates and box at the Nolalu Range, and for the target cabinet at Arnone Shooting Range).
---
NOSA Webmaster Change Effective March 2010
The new web guy, Banacek, would first like to commend Wes M. for his excellent work done on the old website. Well done.
As you can see, the website has a different address and completely new format. The main reason for change was that the previous hosting service had numerous restrictions on how material may be displayed and edited -- and from my viewpoint would make a lot of stuff harder to show or update. On the new site, there is complete freedom and flexibility to work with web code either manually (as I do it) or with optional web editing programs.
---
NOSA Adult Indoor Shoot -- Friday, 16 Apr 2010

This was a combination late Easter and end of season Indoor Club Shoot (there were still 2 regular shooting nights to come after this). The competition and neat prizes were arranged by Trapper-John A., and Banacek assisted with scoring. (Both graciously did not shoot so as to let someone else win for a change ;-)
A big thank you to all who participated, and for the good natured humour and kidding that always makes these events fun.
Each shooting category and the 1st, 2nd, 3rd place results follow:
Rimfire Handgun: Dan G., Verner K., Mark R.
Centerfire Handgun: Rick J., Verner K., Dan G.
Rimfire Rifle: Anna F., Rick J., Dana C.
Bingo RF Handgun: Kevin S., Dan G., Anna F.
Bingo RF Rifle: Shawn J., Dana C., Anna F.
---
Nolalu Shooting Range Improvement Projects in 2010
In this section we list projects and activities relating to our industrious members, working to improve the Nolalu outdoor shooting range facilities for the 2010 year. Details kindly provided by Terry D. Scribed by S.B. aka Banacek.
25 April. A most happy gang went to Nolalu to deliver materials and work (paint/dig/hammer/bolt/joke/sweat/laugh) alongside Terry D. who is our Properties Chairperson. Volunteers included: Dana C., Dan G., Don K., Ricky B., Trapper-John A., Wade W., and Warren W. The existing fence got straightened along with the old gate. A new second gate (same new club lock on both) was installed and lots of paint was used to make everything spiffy. Trapper-John certainly loves his red paint. The range baffle was stabilized with heavy wire guys for safety. Our particular thanks go to Hugh Paxton (Wire Rope Industries Ltd.) and George Hill (George Hill Supplies Ltd.) for providing sound advice and generously sharpening their pencils on materials needed.
May. A big thanks to member Scott B. who is generously making available some heavy material for integration into the stabilized flooring design at the firing points.
20 June. This last day of spring was unusually hot and sunny and found an intrepid band at the range sweating for several hours as they prepared the pistol range firing point area for new surfacing. At this time they moved the benches and then wrestled a very heavy tarp material into submission. The tarp will be covered with compacted crusher stone in the near future. Volunteers working with Terry included: Andrew, Dana, Jason, Peter and son, Trapper-John, and Vern. Thanks guys.

30 June -- More Pistol Range Improvement. Our website on the Recent Activities page has reported ongoing work this year at Nolalu to improve the range. This next step was a work party to improve the ground around the firing point.
--- Our landlord and fine member Wade W. phoned our range rep Terry D. to say he had just arranged a truck and loader and 100 metric tonnes of fine gravel were being delivered. So these two valiant members along with Wayne H. proceeded to the pistol range and had at it. Yes they had a loader for part of the work, but there was still an awful lot of back-breaking manual shovel work spreading and packing.
--- In the table below we start with Terry's three photos, of one 25 tonne truckload being dumped, Wayne and Wade using loader and shovel (yes, Terry put down the camera and wielded a shovel too), and the pistol range about 3/4 finished. Looking good.
--- So a VERY BIG THANK YOU to Wade W. and Terry D. and Wayne H. for a job very well done!
Some comments from Terry afterwards: "The 29th of June I went to the Conmee pit to actually see what we were going to get for product, and arranged with truck drivers to dump the 1st load around 9:30 a.m., June 30th, before rain set in. Dump truck round trips were 1 1/2 to 2 hrs between truckload dumps (4 of them).
--- I wanted to build up a pad in front of the sign-in box as well, and we did so -- for brass and burning barrel as well. Wade was also going to replace the old barrel with a new one.
--- The finished pistol range is smoothed out to both sides all the way down to the end. Wade W. brought a packer and painstakingly went over the whole area. Wayne H. even assisted by doing a lot of raking, in addition to spreading most of the material with the loader.
--- The material provides an excellent packed surface and pretty much becomes solid after walking away from it. We got the surface as smooth as possible for the added material which was anywhere from 6 inches to over 1 foot thick. Tarps were good but occasionally gathered as 25 tonnes of load plus truck ran over them.
--- No notification to others went out because I checked with the weather forecast and it was grim for July 1st, so I got truckers to haul Wednesday June 30th. Wade arranged for Wayne to be there with a loader for 9:30 - 10:00 a.m. Extra gravel was spread to prevent the truck from getting stuck more than it did. You can imagine what a little extra rain would have done to that!"
08 August -- Meeting in Thunder Bay with Supervisor of Clubs and Ranges, Chief Firearms Office Ontario. Sgt Peter N. and his new Range Inspector Rick G. gave a briefing to representatives of the local gun clubs including NOSA. Some highlights include:
-- Section 24 of the Firearms Act governs Ontario's 207 clubs with 239 ranges plus 32 private ranges.
-- The normal range inspection schedule is once every two years and is on track.
-- Peter provided an interesting overview of the GPS system now used to survey ranges and ensure safety in the arcs of fire.
-- Where any problems are found, the CFO works with the range owner to find practical solutions to meet the needs of public safety.

14 August -- Day One. Terry D. arranged to get Robert N. and his Bobcat out to the range on this sweltering hot day. What turned out to be a successful two-day operation was all necessarily on very short notice. Timing for Day One depended on the availability of the heavy equipment needed.
--- Then the amount of progress on Day One dictated whether and when Day Two could happen. (There might have been a delay if large rocks got in the way.)
--- Terry and Banacek and Wade W. assisted with shovels and cheers and buckets of sweat equity.
--- Robert drilled eight holes over 6 feet deep at the firing point for Range #2. He then changed accessories for a bucket to further level the gravel recently used to surface the pistol range (Range #1).
--- Some seemingly very long and scorching hours were spent on site. Banacek's pix are in the table below. Vultures circled ever closer ;-)
15 August -- Day Two. The night before, Terry D. had borrowed a massive boom truck and loaded it with 8 very heavy lengths of pipe up to 28 feet long. In the very early (for a Sunday) morning his son Jerry and Banacek convoyed with him to the range and were met there by Glenn H. and Wade W.
--- The weather was much cooler and perfect for the labour this day. Still lots of sweat but no heat stroke.
--- Every phase of this operation had physical risk but Terry first stabilized the truck and then skillfully operated the boom, and directed all operations to keep us safe.
--- Glenn was not fishing for groundhogs; he was lowering footing steel plates into yesterday's holes.
--- Banacek took the pictures and worked too. (Thanks Terry for using my camera to take a picture to prove I was there.)
--- The base of each pole was first wrapped with heavy but loose plastic to prevent frost heaving. (The holes were below normal frost levels but the plastic ensured pole stability -- far better than concrete collars that would heave.)
--- Each pole was lifted and guided into position, and then lowered and coaxed into alignment; the hole was filled and firmly tamped. Final vertical alignment will take place when more upper structure is added before the roof goes on.
--- More Banacek pix are below, including triumphant Terry standing within our masterpiece, Ironhenge.
--- An amazingly good time was had by all.
---
NOSA Junior Shooters Match and Awards -- Wednesday 19 May 2010

The final NOSA Junior Shooters match events took place at the indoor Arnone Shooting Range. We thank the owners of Paintball Mountain who generously sponsored the prizes for our Senior junior members. All juniors in the program were presented with a trophy for participation along with a shoulder patch and crest. Trophy and gift certificate results for the shooting matches held this evening follow.
Senior Shooters Match: with gift certificates from Paintball Mountain
1. Thomas $125.00
2. Justin $50.00
3. Noah $25.00
Junior Shooters Match: with gift certificates from NOSA
1. Nicholas $20.00
2. Aryanna $20.00
Random Event:
1. Noah $20.00 gift certificate from NOSA
Parents and Coaches also took part in a friendly shooting competition:
1. Anna
2. Billy
3. Borys
4. Gerry
5. Bogdan
---
NOSA Thursday Night Blasters -- 2010 Dispatches by Colonel Parker
Note: All NOSA members are encouraged to shoot at Nolalu Range on Thursday evenings (as well as the rest of the weekly four range days reserved for NOSA). Rare or unusual firearms are neat to see, but don't hesitate to bring out your regular hardware.
10 June. Turnouts for Thursday evenings are fairly consistent the last few weeks. We are seeing many of the same faces and lots of different firearms. It's nice to see father and son, and father and daughter participation. We also gained some new members after they came out as guest shooters.
--- The challenge is still to hit the 300 yd gong, and Rick J. still seems to be the one to beat. His .375 H&H and .458 Win Mag slap that plate quite convincingly! We've also seen many vintage military rifles show up and prove their accuracy. Gee Whiz guns such as an old converted single shot Stevens turned into a .38 Special, usually gets a line-up to shoot at the 100 yd gong.
--- You don't need mega-buck guns to have fun. Many of the vintage guns can be loaded with lead bullets for mere pennies and we welcome the black powder shooters. The unique sound, smell and smoke cloud from the charcoal burners cannot be duplicated with the modern smokeless rounds. The black powder smoke also keeps the flies under control.
--- For the early birds, there is a club BBQ in the storage shed for the use of the members, as well as a pop-up canopy for protection from rain or sun. After shooting some of the members migrate to the Stanley, or to St. Urho's at the golf course across from the range, for verbal shooting.
--- The summer and fall are short, and we have a wonderful out-door facility to use. See you Thursday!
17 June. A wonderful, bug free night at the range. A light breeze and semi-overcast sky created ideal shooting conditions.
--- The Soviets predominated. A SVT-40 and a scattering of 1891/30 Mosin Nagants over-ruled the No.4 Mk1 Lee Enfield and the 1896 Swede in the vintage military class. All shot flawlessly and goes to show why these military rifles dominated the battlefields for decades. A few modern sporting rifles were unleashed on the targets as well, and the star was a heavy barrelled SAKO in .22-250 that insisted on shooting ½ minute groups all night.
24 June. Another wonderful night for shooting. Mark R. had his .50 cal flintlock burning a lot of charcoal. Members were lining up to try their hand at putting half inch holes in the target. Jeff B., an avid black powder shooter, still maintains that smokeless powder is a passing fad.
--- Other interesting pieces were a Browning 1885 Hi Wall in .45-70 and a Swede Mauser Model 38 in 6.5 x 55. As well, more sporting rifles loaded with cast bullets are appearing. This is one way to practice at a minimal cost.
01 July, Canada Day Blast. Well the weather looked pretty crummy in the morning, but the afternoon provided perfect shooting conditions. Twelve members/guests showed up to blast in Canada Day (Dominion Day in my time). All three rifle ranges were in use and the noise from the pistol range confirmed activity there as well. All participants thoroughly enjoyed the afternoon. Pictures have been added to the 2010 NOSA Club Pictures page.

--- A good mix of military and sporting rifles were present and the star this time was a nice Lee Enfield Jungle Carbine. Who said this rifle was inaccurate? Even with mixed ball ammunition, it was able to consistently hit the 300 yard gong (roughly the size of the kill zone on a moose). I guess that the American gun scribes talk the Jungle Carbine down because it embarrasses them to no end that this relatively inexpensive war horse stands up to their multi-dollar sporting carbines. It's definitely not a target rifle, but is hard to beat as a fast, compact, brush carbine with acceptable accuracy. Perhaps we can also do a comparison with the Canadian E.A.L. Lee Enfield. I know that a few of our members have some of these little known gems in their stable just raring to be let loose.
08 July. What luck we've had with the weather! A small group, but lots of interesting firearms again. The new gravel on the pistol range looks great and makes shooting there much nicer. Wade is keeping the grounds nicely trimmed and clean. We can help by making sure brass and debris is picked up and deposited in the containers provided there. Thanks Wade!
--- Jeff B. couldn't be outdone by Mark R. last time, so he brought out his .75 calibre Brown Bess musket carbine (only a 37" barrel). No need for a spotting scope with ¾" holes being punched in the targets. Jeff has been involved with 1812 period military history all his adult life and he can 'look the look' and 'speak the speak' about period firearms, accessories and uniforms. Thanks Jeff!
--- A smaller gong is needed at the 100 metre point as it is much too easy to hit the present plate. The .17HMR's and .22's at that distance easily ring the plate and a smaller target would increase the challenge. If anyone out there has access to steel plating, an eight inch by eight inch square or round target would be ideal.
15 July. Only six shooters out on this perfect night. No bugs, little wind and moderate temperatures allowed a couple of hours of enjoyable shooting.
--- Mykola K., one of our youth Junior Shooters, got to try every firearm brought out, including a .58 cal Northwest Trade Musket, .458 Win Mag, .375 H&H, Colt AR15, and various other items. The words 'AWESOME and NEAT' came out of his smiling face more than once. At 13 years of age, Mykola shot firearms that many adults haven't and his winter training this past year showed when he displayed a steady hold, controlled trigger pull and no flinch. We need more of the young shooters out to experience firearms and calibres that they would not be allowed to shoot in the indoor range.
--- I won't be reporting this Thursday as I will be in the other Ontario for a week. If anyone attending the range wants to make notes, I'm sure that Steve B. would publish them on this forum. [Yes, just send to website email address shown on Club Contacts page.]
---
Canada Day Shoot at Nolalu Range -- 01 July 2010
---
Club Kakabeka Falls Gun Show -- Saturday, 28 Aug 2010 (Set up 27 Aug)

This event was held from 09:00 a.m. to 4:00 p.m. at the Kakabeka Falls Legion in partnership between NOSA and GMK Armoury Specialties. Glenn H. co-ordinated for NOSA and Gerry K. for GMK. NOSA volunteers helped set up the facilities and assisted the vendors/exhibitors to unload and load, and staffed the Club table, and ran the entrance gate. Our thanks to these two gentlemen plus Dana C., Anna F., Dan G., Don K., Gord S., Warren W., and Steve B. (aka Banacek). Also assisting was our friend Dale Z. On-site security was provided overnight on 27 August by our Trapper-John A.
A very well appreciated kitchen for breakfast and lunch was run by Legion staff including our own Don K. Excellent.
Beebe Knives made a popular sharpening service available to the public at their display, which included some impressive new knife designs.
A new non-firearm exhibitor was the Northwestern Ontario Aviation Heritage Centre. Their President Jim Milne and Board Member Denise Lyzun were very well received by an interested public.
Most of the vendors were old friends of the Club and their support was very much appreciated.
NOSA had an information display about the NOSA Club, and our activities promoting the shooting sports including our Junior Shooters Program. There were many inquiries that hopefully will lead to more new members.
Visitors included 344 adults plus many youngsters, who are the future of this sport. We also hope to bolster our number of lady shooters.
Lots of folks commented about the heat during this event. It turned out that Thunder Bay was the hottest city in Canada this day, well over 30 degrees C.
Banacek took these photos before and during the Show.
---
Northwestern Fur Trappers Association Shoot at Nolalu Range -- Sunday, 12 Sep 2010

This an annual shooting event had full use of the Nolalu range from 11:00 a.m. to 4:00 p.m. Traditionally NOSA assists them to run the fun target shooting activities.
Trapper-John A. officiated with the assistance of Warren W. and Dana C. There were several other NOSA members competing in the various shooting events (which were open to the public). Lots of fine prizes and good food.
If you did not attend, remember to reserve this fun day on your wishlist for next year.
Pix by Banacek.
---
NOSA Indoor Shooting at Arnone Range -- September 2010 through End May 2011
The fall to spring indoor shooting schedule began at Arnone Range:
on Friday 17 Sep 2010 for Adult Shooters; and
on Wednesday 22 Sep 2010 for Junior Shooters.
---
Moose (or Deer) Sight-In Session at Nolalu Range -- Sunday, 19 Sep 2010
This event took place on Sunday 19 September 2010 from 10:00 a.m. to 3:00 p.m.
It is an annual service for the public to sight-in their rifles and was jointly hosted by the Ministry of Natural Resources and NOSA.
MNR Conservation Officer Ross Johnston and Bear Management Technician Rick Hagdu were on site. They answered questions from the public and from NOSA members present. A valuable service and resource. Additionally they kindly provided coffee and donuts that helped ward off the morning chill. And they got to have some fun shooting some very interesting firearms.
It started cold but sunny, and then turned into a surprisingly warm day. The arrangement of the range berms, sheltering from the wind, and the ranges' sunny southern exposure contributed to the heating effect. A glorious day.
NOSA volunteers were on hand to staff the range and help the public to sight-in their rifles. The volunteers were pretty much the usual gang led by Dana C. and Glenn H. -- including Trapper-John A., Jeff B., Terry D., Kevin K., Gord S., Warren W., Wade W., and Steve B. aka Banacek, who took the pictures posted below. A good gang, one and all, that contributed to a most successful day. Great fun.
Special thanks for the generosity shown by Dana and Terry in letting many folks fire their firearms (personal ammo provided free) under careful supervision. Shooting black powder. Jeff B. did a splendid job of individually instructing more than a dozen of us on all aspects of loading, firing and maintaining a black powder flintlock trade gun. The fellow is a walking facts machine, and is always interesting. As he says, after firing with black powder, we can now check off another activity on our bucket list. And maybe get bitten by the bug, to get our own muzzleloader.
We also signed up a new member, and generated an interest in the club by several members of the public.
---
NOSA Club Appreciation Shoot and BBQ at Nolalu Range -- Sunday, 03 Oct 2010

This event for all NOSA club members began at 11:00 a.m with shooting events, and there was a BBQ soon afterwards. Food and beverages were provided free by NOSA; they were arranged by Glenn H. and delivered by Dana C. A very big thank you to new member Bob J. who ably cooked up a storm and kept us all very well fed.
This annual event is in appreciation of the volunteerism and support shown by all members, whether at special events or just in the day to day help provided to others. Another big thanks to Gerry K. of GMK Armoury who provided gift certificates for everyone who shot at this event.
Shooting events included rimfire and centerfire handguns and rifles; there were first, second and third prizes available for each event. And there was no charge for targets. Trapper-John A. oversaw the whole shoot, assigning targets and keeping score and sorting out results with assistance from Banacek. Meanwhile Bob M. and Dana C. made sure the ranges were efficiently and safely run.
Juniors' Participation. We were happy to see 4 junior members actively participate in a special event, and in one case compete in an adult event. Bob M. and Bob J. gave them terrific pointers on shooting and taught proper range safety procedures.
Each shooting category and the 1st, 2nd, 3rd place results follow:
25 M Bullseye .22 RF HG, Standing: Banacek, Wayne O., Bob M.
25 M Bullseye CF HG, Standing: Dana C., Jarrett J., nil
25 M Bingo .22 RF HG, Any Position: Dana C., Dan G., Bill K.
25 M 5 Bulls .22 RF Rifle Open Sights, Standing: Ron W., John A., Chris L.
25 M 5 Bulls .22 RF Rifle Any Sights, Bench: Ron W., Kevin K., Ricky B.
25 M Bingo .22 RF Rifle Any Position: Kevin K., Warren W., Bill K.
25 M Junior Bullseye .22 RF Rifle Any Sights, Bench: Jarrett J., Aryanna M., Cassidy J.
100 M Orange CF Rifle for Points, Bench: Ron W., Brian W., Dana C.
100 M Orange CF Rifle for Points, Standing: Scott V., Brian W., Ron W.
300 M Orange CF Rifle Group Size, Bench: Ron W., Shawn H., Brian W.
One lesson learned was that the large number of events in this shoot made it more than a "bit" complicated. We shall try to streamline the events next year and hopefully have a couple of non-shooting volunteers to run the target table. It would also make competing in events and picture taking a lot easier for John and myself.
And finally, a big thanks to all the participants who made this warm beautiful day into a great memory.
Many thanks to Bill K. for the first 6 pix here. Banacek provided the other pix and captions. Incidentally, there were a lot more shooters present than appear in the pictures, as folks came and left at irregular times. The day started cool but soon became very comfortable, and a truly good time was had by all.
---
Aerial Photos at Nolalu Range -- Sunday, 10 Oct 2010

While all the ranges were green, Banacek took some aerial pictures on this lovely fall afternoon. They certainly give a different perspective. (Technical details can be seen in the Member Ramblings section in the article "Behind the Scenes at NOSA's Website".)
---
NOSA Junior Shooters Halloween Fun Shoot -- Wednesday, 27 Oct 2010
Our thanks to Bill K. for reporting the results of this NOSA Junior Shooters event at Arnone Shooting Range, and to the volunteers that make this program a success.
Each shooting category and the 1st, 2nd, 3rd place results follow:
Bingo targets: Tristan C., Nicholas G., Courtney C.
Under 12 Pumpkin targets: Nicholas S., Courtney C., Aryanna M.
10 meter targets: Mia B., Jarrett J., Noah A.
After the prize presentation, the kids enjoyed Halloween treats. Beverages were supplied thanks to Gerry K.
---
NOSA Junior Shooters Yearend Shoot -- Wednesday, 15 Dec 2010

This was the Junior Shooters last fun competition at Arnone Shooting Range before the yearend holidays. 17 youngsters attended.
Bill K.'s pictures of this event follow here. Once again our thanks to Bill for providing the results of this NOSA Juniors event, and to the volunteers and parents that make this program a success. And now, Bill K. reports:
Each shooting category and the 1st, 2nd, 3rd place results follow:
Bingo Targets: Cassidy 116, Aryanna 106, Micheal 91
10 & Under Match Target: Courtney 99-6x, Matthew 98-6x, Cassidy 98-5x
11+ 10 Meter Match Target: Judah 32/50, Marcel 26/50, Noah A. 22/50
This last match was shot off hand, very tough for anyone! Prizes were awarded and refreshments served after the event. Thanks to all the helpers and parents. Merry Christmas to all and a safe Happy New Year!"
---
NOSA Adult Yearend Shoot -- Friday, 17 Dec 2010

This 7:00 p.m. shoot at Arnone Shooting Range for adult club members included competitions for rimfire and centerfire pistols, and rimfire rifles. Our thanks to Trapper-John A. for running these competitions and organizing prizes. He also included some events that left more to chance than skill, so everyone had the possibility to win something. Congratulations to our prize-winners, and our appreciation to everyone who participated. As always, it was a good fun event.
Each shooting category and the 1st, 2nd, 3rd place results follow:
Handgun .22 RF Target: Tom S., Andre D., John-Bryan G.
Handgun .22 RF Bingo: Tony M., Andre D., Adam G.
Handgun Centerfire Target: John-Bryan G., Bob J., Andre D.
Rifle .22 RF Target: Mark W., Dan G., John-Bryan G.
Rifle .22 RF Bingo: Jean Pierre F., Kevin K., Bob J.
---
NOSA Members' Adventures and Hunts -- 2010
Stephen K. sent colourful pictures from his hunt with wife Barb in the Yukon early this fall -- see the full story in Member Ramblings at left. [The original rainbow picture was locally tweaked to peek into the shadows here -- yes we can be nosy ;-] Some memorable pix in an area we likely would never see otherwise.
Scott S. provided the picture of son Timothy with his first ever moose during a fly-in hunt north of Armstrong; a splendid specimen -- 54 in., 40 in. paddles, .308 TC Icon.
Bob M. sent pix of Rob's moose (3 total were taken) and hunting good buddies.
John-Bryan G. reports: "One of our Junior Shooters' Alumni shot her first moose this year. It was on October 11, 2010 at 9 a.m., a big cow at 155 yards. One shot, both lungs and the top of the heart. My daughter, Healey, has been shooting since she was 6 years old. Her first time with centrefire was at Nolalu when she was 9 years old, and today she has a passion for "big-bore" including her own short-mags, a 375 H&H and a 458 WM! Healey started with Junior Shooters about 10 years ago, and was in the club for several years. She has shot cowboy action and still shoots pistols and long-guns and probably shoots more centrefire in a year than most hunters do in a lifetime. She shot her first 2 deer when she was 15, and after moose hunting for 3 seasons, finally got her own moose! All have been 1 shot kills!"
Later on Healey G. went deer hunting near Fort Frances with dad John-Bryan. She was very successful (of course) and shot 3 deer. Dad had slightly fewer (zero).
Mark B. reports: "Here is a picture of Junior shooter Judah B.'s first moose. Judah is 12 years old and in his first year with the club. He shot his bull on November 16, 2010 at 300+ yards using a 30-06 with a 220 grain bullet."
Stephen K. also had a photo-only hunt for caribou to gather references for a commissioned painting. First is one photo of a trophy bull caribou. And then see the final oil painting titled: "Nomads of Finlayson-Caribou". The herd home map is courtesy the Yukon Fish and Wildlife co-management website.
---
Warning and Disclaimer. Only the most current printed Shooting Rules and Range Standing Orders and Match Standing Orders as issued by the N.O.S.A. Executive are official and they should be read, understood, and followed. If there is any question as to interpretation of a rule, or safety of a practice, immediately ask a member of the Executive or a Range Safety Officer before placing yourself or anyone or anything else at risk. Any activity involving firearms has inherent dangers. Some contents on this website may include personal opinions and experiences or practices that should not be emulated. Everyone viewing this website, or any other website or book or magazine or pamphlet or media source, is cautioned to seek professional advice first about anything written or implied or inferred. Your safety is your personal responsibility.
Copyright © 2019 New Ontario Shooters Association. This site is copyrighted and no content may be reproduced by any means, including electronic, without written permission except for strictly personal use. Other websites wishing to post a link to this site are welcome to do so.