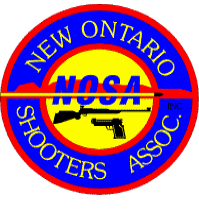 A 2005 Deer Hunt and My Biggest Buck
March 2012 -- Tom W.
I had been happily hunting all season with success. It was now November 23, 2005 and I had one buck tag and one doe tag left. I had filled my moose tag and gotten a nice big doe for meat. The night before, I had talked about a missed opportunity with my friend Casey N. who did not hunt big game. He had suggested that I come out in the morning and check an area that I had never hunted before; of course I said yes.
I got up early and was at his house 45 minutes before shooting time. He was still sleeping but I got him up. I tried to rush him but he said we didn't have far to go. While we were in the house, it started to snow hard. At about 5 minutes to daylight, he finally said: "Let's go."
We got into the pickup and went about 3 km before he said: "Stop here." I got my rifle out of the case, put scope covers on, and away we went. We walked what seemed like forever, without even seeing a fresh track. I wasn't surprised; you could not see 20 yards in front of you.
By 10:30 a.m. we were soaked. He decided he had had enough and we started to walk back to the truck, talking and having a good time. A doe and fawn jumped out 15 to 20 yards in front of us. We laughed: "Why couldn't you have horns?" They ran away and we carried on. I turned around to check where the deer had crossed, just then getting a glimpse of a rump bouncing into the bush. I laughed again.
We made it back to the truck and I said: "Well, we were close. I'm sure that was a buck." He replied that he had one more spot to check out. I agreed. By this time the snow had started to let up. We drove for about 4 km to a big cut; I started to glass the cut, not being able to see much through the snow. I was surprised to spot 2 deer standing way at the back of the cut; there was a big one and a little one. We watched for a couple of minutes and I decided I was going in after them, but if it was a doe and fawn, I wouldn't shoot.
I handed Casey my binoculars and started in nice and slow. Finally Casey said: "The one on the left has horns." I positioned myself so I could get a clear shot and could see the rack. I was satisfied and shot. Casey said: "Your shot was short." I adjusted ... deep breath ... exhale... pause ... squeeze ... the deer ran!
It became a very long 20 minutes, waiting while cold and wet. Then we started towards where the deer had been. When we got there, I started looking for blood -- there was none. Following his tracks, I found where he had been standing, marked with a big tuft of fur on the ground. I shouted excitedly: "Follow me, follow me!"
It was about 30 yards to the bush line where he had gone in. Once I entered the brush, I could see one side of his antlers sticking out of 2 feet of snow. Words cannot express how I felt at that moment. I had never seen such a magnificent buck before and was very pleased.
Click on the picture for a larger view.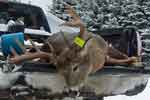 We were able to drive the truck to within a hundred yards of where the deer was originally, and only had to use a come-along once while getting it out. It had been a shot of just over 300 yards. The trophy buck "green scored" into the 160's using the measurements specified by the Boone and Crockett Club.
back to Table Of Contents for Member Ramblings
---
Warning and Disclaimer. Only the most current printed Shooting Rules and Range Standing Orders and Match Standing Orders as issued by the N.O.S.A. Executive are official and they should be read, understood, and followed. If there is any question as to interpretation of a rule, or safety of a practice, immediately ask a member of the Executive or a Range Safety Officer before placing yourself or anyone or anything else at risk. Any activity involving firearms has inherent dangers. Some contents on this website may include personal opinions and experiences or practices that should not be emulated. Everyone viewing this website, or any other website or book or magazine or pamphlet or media source, is cautioned to seek professional advice first about anything written or implied or inferred. Your safety is your personal responsibility.

Copyright &copy 2012 New Ontario Shooters Association. This site is copyrighted and no content may be reproduced by any means, including electronic, without written permission except for strictly personal use. Other websites wishing to post a link to this site are welcome to do so.

br>