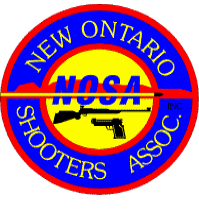 2014 Deer Hunt in Northwestern Ontario
November 2014 -- Chris C.
Just a quick note to let you know during this deer season, while hunting with a friend from Sault Ste Marie, we were able to cross a few things off the "To Do" list.
My friend Richard B. has been coming to Thunder Bay for the last 5 years to enjoy the great hunting (and friendship) we have to offer. Over the years we have been lucky to harvest several deer and moose, but alas he hadn't even been able to get his cross hairs on a buck. Yes, he's a doe magnet.
That changed this year when he was able to tag a small doe and his First Buck! Game seals attached, and a few pictures later, the little 4-pointer will always be remembered.
During this trip to Thunder Bay, he accompanied me to watch our Junior Shooters at an evening target session -- where he was very impressed at the number of "New Shooters" and the capable volunteers helping in every way.
As for myself, I was able to attach a seal to a small antlerless buck, while hoping for something bigger to come along. After a few days' wait, and a few smaller does passing, I was glad to be able to fill my buck tag on my largest Whitetail buck yet.
A very healthy 9-pointer found himself in my cross hairs 1/2 hour before last light. He startled me a little as he came in on the wrong side of my tree stand and was very wary, working his way through the brush. I was able to sight in on him but had to shoulder my rifle wrong-handed (good thing I practice such off-hand shooting).
A few moments later I was slowly packing up and climbing down my ladder, and placing a well earned and long awaited tag on a very nice buck. Going to be hard to top this guy next year, but I'm sure going to try. The buck was tagged as soon as the pictures were finished.
Another fine adventure in Northwestern Ontario with a happy ending.
Click on the individual images here to see a larger view.
My friend Richard B.

is happy with his

first Whitetail buck

And here is

the beautiful

9-pointer

taken by Chris C.

who looks very

pleased indeed
back to Table Of Contents for Member Ramblings
---
Warning and Disclaimer. Only the most current printed Shooting Rules and Range Standing Orders and Match Standing Orders as issued by the N.O.S.A. Executive are official and they should be read, understood, and followed. If there is any question as to interpretation of a rule, or safety of a practice, immediately ask a member of the Executive or a Range Safety Officer before placing yourself or anyone or anything else at risk. Any activity involving firearms has inherent dangers. Some contents on this website may include personal opinions and experiences or practices that should not be emulated. Everyone viewing this website, or any other website or book or magazine or pamphlet or media source, is cautioned to seek professional advice first about anything written or implied or inferred. Your safety is your personal responsibility.

Copyright &copy 2014 New Ontario Shooters Association. This site is copyrighted and no content may be reproduced by any means, including electronic, without written permission except for strictly personal use. Other websites wishing to post a link to this site are welcome to do so.

br>