The 2018 season allowed me to harvest what turned out to be one of the largest bodied Whitetail Bucks that I've ever seen.
The morning on November 6 had turned out to be uneventful; however I have learned over the years to stay on stand or in my blind all day. Previous seasons had ended in a midday victory, and I had already seen several deer this year. A doe and fawn had spent almost thirty minutes entertaining me while feeding on Halloween, and then a 4-point buck on November 4th.
I purchased an additional antlerless tag this year, but decided that I wanted to take a buck first. I don't like to waste money on expensive synthetic deer scents when I already have deer in the area that can take care of that for me. This turned out to be a good choice.
The area I hunt is a 25 year old clear cut which is All Terrain Vehicle (ATV) accessible only. It's more akin to partridge hunting now than deer. But, because most deer hunters wouldn't look twice at this area, I'm pretty much left alone once November hits. The longest possible shot is about 45 yards and that's only in one or two spots along the old skidder road.
At 12:45 p.m., while keeping myself awake playing a game of video cribbage on my cell phone, I looked out the blind window to see that a mature doe had come out into the clearing and was standing broadside 15 yards in front of my very well camouflaged blind. Think "Viet Kong bunker".
She quickly turned her head directly behind her and focused her ears and eyes to something following. About 15 seconds later she faced forward, jumped over a small log, and with just three steps walked out of my shooting window.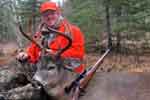 Rifle in hand I stayed focused on the brush line she came out of, and within a minute I saw a very large silhouette moving through the alders, a little farther away than the doe had been. A quick look through binoculars confirmed a thick and heavy racked buck.
Unquestionably a shooter, my barrel was out the window and at forty-ish yards I made a perfect heart shot as he stepped into the narrow opening.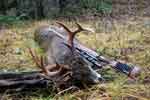 Sometimes it just happens that fast.
Good luck and happy hunting.
Dave O.