The 2023 deer season began with the hardest decision that I have to make every year: "Which rifle to take hunting?" Haha!
About 6 or 8 years ago I purchased a new CZ 550 from GMK in 9.3x62mm, and I installed a variable 2-7X Leupold VX optic on it. While I had taken it to the range several seasons to sight it in and shoot it, I never brought it into the field to give it the "proper" break-in on some big game. This year was its turn.
I hunt mid to late season "November" from a blind at a bait site, and I target primarily mature bucks. I've been blessed with a location that seems to be favourable to this quarry. However, the last few years have seen a noticeable decrease in the Whitetail population around the district and the lack of sign had me worried that the CZ might not get to bark this season.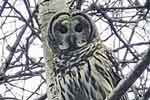 Six first light to last light days in the blind had given me nothing more than sore bones and a cramped backside while watching Bluejays, Squirrels, Ravens, Rabbits and 2 fat Raccoons endlessly shoveling down the grain with not a single deer sighting. The highlight of those 65ish hours was a visit from a far better hunter than me. The gorgeous Barred Owl gave me a few good pics before heading on his way.
Day seven bought our first snow, revealing some fresh tracks from the night before. That, and a quick visit from a smaller doe, gave a relief in the thought that there must be a buck around also. Thankfully, at 10:45am on the eighth day he made an appearance while following what must have been the trail of a "hot" doe that came through earlier that night, as his nose was glued to the track he followed.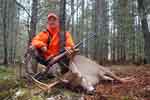 There was no question at this point that this buck was a shooter. The CZ was quickly brought into action and the 9.3mm 286 grain slug changed the buck's plans for that day in a hurry. Now the meat is going into my freezer as steaks, burger, and sausages -- and the rack is headed to the trophy wall as a European mount.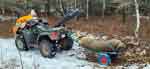 A practical trailer attached to the ATV makes it much easier when moving big game.
This means I'm back to fishing until next year's hunting seasons. And I'm okay with that.
Dave O.