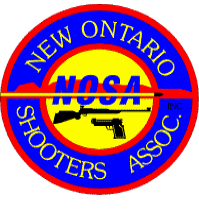 My Custom Dangerous Game Rifle
July 2023 -- Patrick C.
Note from NOSA Webmaster: In July 2023 Patrick (Pat) C., a recent NOSA Member, sent us another email, this time with two fine photos and the fascinating details about his acquisition and customization of a DGR (Dangerous Game Rifle) suitable for handling any game on the planet.
"Thought you might be interested in what I've been up to. Almost lost my little Fr Brittany to cancer in January and her emergency surgery bill in Minnesota amounted approximately to the cost of a Cape buffalo (= a LOT of $$$). So I figured this year's planned trip to Africa was a wash. Her prognosis was quite guarded which kinda put planning for anything up in the air anyway. But she has surprised us all. Not many guys would have put that much money into a dog almost twelve years old but she has certainly vindicated the expense. Coral is doing great and has more energy than most dogs half her age.
So ... about April I decided what the heck and booked another African hunt for August. I have been toying the with idea of building a gun for some time, just as a "something to do" project. Gary Beardsley in Vermilion Bay has become a great friend (we went to Africa together for my first safari) and he found a suitable action on Gunpost: a postwar Czech BRNO vz.24 that had an afermarket 30-06 barrel. Those are great actions and the price was very good.
I decided on 404 Jeffery for caliber. 375 is more practical but the softer shoulder on 404 makes for easier conversion on a standard Mauser 98 action. In fact, that's what the cartridge was originally designed for back in 1905. Mauser didn't make magnum actions until 1913 and then specifically for Rigby's new 416.
WWI and Versailles Treaty restrictions messed up gun production in Germany so magnum actions were pretty much unavailable until late thirties (when no one had the money to buy them). In the meantime, 404 was built by Jeffery and others on any actions they could find: old military 98s, 1917 Enfields, etc. Building a piece of history obviously appealed to a guy who has a PhD in history (404 Jeffery was the first commercially built rimless magnum cartridge). It would be a challenging project but definitely doable if it had been done before ... a lot. I wanted a gun that would be as versatile as my Springfield.
On eBay I found another set of iron sights from 1990s Winchester Express. Also easily picked up a Timney trigger. Warne quick detach rings exactly like Springfield's were easy to find but price has sure gone up. I wanted a similar rail so scopes could be interchangeable. Unfortunately, the manufacturer/importer was out of stock for Mauser 98 but did have commercial Mauser rail so I bought one and with some clever carving made it fit (commercial Mausers did not have the stripper clip fitting on rear ring).
There were three choices for new scope safety and I finally opted for the more expensive option: Model 70 style 3-position on right side of bolt shroud.
It took a while to find a suitable blued 404 barrel as I'm not putting stainless on an African DGR (dangerous game rifle). Definitely NOT historic. I will have a gunsmith cut, crown, ream, and thread the new barrel, and check headspace.
Of course, 3-position side safety is not historic but wing type 2-position scope relief safety sticks up in the air unprotected when scope is off and gets caught on everything. I deal with that on my Springfield and simply have to remove a round from the chamber when stalking in the field.
The 404 Mauser, however, is only 3+1 capacity. For dangerous game it will require a full load with one in the chamber. Springfield holds five 30-06 in the box so no problems hunting with an empty chamber.
I discovered the bolt shroud on this gun was cracked so may as well go with the 3-position safety from Parkwest that includes a new bolt shroud ($200 + shipping).
Next challenge was bottom metal/magazine. Jeffery simply cut away the sides and front of the 8mm Mauser magazine box, retaining only the back end next to trigger. Then they opened up the wood to become the magazine box and extended it by cutting the loading ramp ahead into front ring.
For later postwar 416 and 375 builds when no magnum actions were available, the bolt lugs were lapped so that the third "safety lug" was activated. Whether this was actually necessary is still debatable. But 404 can definitely be contained with just two lugs if 400 gr is kept below 2400 fps.
After some shopping around I finally opted for 416 Remington magnum bottom metal from Blackburn-Swift (of Swift Bullet Company). The only other option was Sunny Hill but I just can't justify +$600 US. Swift bottom metal cost $460 US and I gotta admit I was a bit disappointed in the fit and finish. But I cleaned it up.
I anticipated having to open up the insides of the 416 magazine box slightly (particularly at shoulder zone) to meet Paul Mauser's cosine 30 degrees formula for stacking rounds but it appears this one will work as is.
It has a nice trigger guard release inside the trigger guard. This can be a problem for severe recoil rifles as trigger finger can inadvertently bump the release and dump the magazine box when gun is fired, but 404 is noted for its relatively mild felt recoil (about on par with 375 H&H). It should be okay.
I picked up a magnum magazine follower from New England Custom Gun ($100) but the standard length one would work fine, just leaves a gap ahead of it. Purely cosmetic.
I found the walnut stock on Gunpost and met the guy in the Soo when I was down there for a church conference. It is a good piece of wood but had some problems ... as did the poor old fella who was selling it. We did the deal in the parking lot of the hospital where he was getting treatment. Nice guy and the price was ridiculously cheap. So what the heck, I'll make it work for now.
All I will have left to do then is tune the right feeding ramp to load the thicker 404 cartridges and mount the iron sights. Changing the feeding rails can be tricky. One fella on an African hunting forum said it took him sixteen hours of patient careful whittling before he got it right. Fortunately, it seems the right ramp is fine as is. That makes things a LOT easier. I have already modified the loading ramp in front ring and the underside of receiver to match up with width and length of new bottom metal. Dremel tool and a huge collection of stuff for it has proven invaluable. Doug at Dingwell's opened the bolt face last week and did a great job.
Duane Weibe, a world-famous custom gun maker in Bellingham, WA, sent me his nifty booklet on how to make the Mauser 98 magnum build. A great value at $25! And a very nice and helpful fella. He was very encouraging.
The new stock was top of the line stuff but unfortunately it was cut for a trigger block safety mounted on the side of the receiver and apparently the stock cutter machine went haywire at the end of the job and took a huge gouge out of the end of fore end. I filled the side safety gap with brown epoxy and cut off the bad part of fore end. But then the stock looked too short so thought I would try my hand at making a fore end cap. The only piece of rosewood in town was kinda funky. No maple to be had thick enough but Windsor Plywood had a twisted chunk of zebrawood that was just thick enough.
I built a jig for my old radial arm saw to cut the stock and cap blank at the same angle. Then used the same jig for cap blank to drill it out with 3/4" forster bit on my Shopsmith for barrel channel. I bought enough zebrawood for a couple of tries but got it right the first attempt. It turned out well. The contrast with walnut is "interesting" and certainly atypical but I kinda like it. Zebrawood is certainly appropriate for an AFrican gun and the stuff is definitely tough enough for a serviceable fore end cap.
Turns out the walnut stock had some hidden character once the Linspeed oil finish was applied. I may actually hang onto this stock. It came with one crossbolt ahead of the magazine and Gary brought me another when he was in town for medical appt a week ago. But I would have to built a jig to set up the drilling and rather than risk screwing it up, I opted for an internal crossbolt mounted in Devcon. Everything I've read says internal crossbolts are just as strong (apparently Roy Weatherby pioneered the concept for his big magnums).
So here it is, ready to go. Just waiting on the new barrel.
Hope I can get to the range with it before leaving for Africa. The scope is a 3x Weaver I retired from my Springfield a couple of years ago. Dad bought it for me in 1972 after I threw the cheap Bushnell Banner 4x down the mountain ... after missing an elk almost point blank. Bushnell was junk back then. That old Weaver scope brought home a ton of meat. It should be just right for close range DGR work. And forty years of scars prove it's tough enough for the job.

I ordered a fancy Pachmayer "Old English" recoil pad but it didn't pan out. Wound up cutting into the contained recoil baffels. So I dug out this one I salvaged from a stock that broke on my 870 goose gun several years ago. That recoil pad probably saw me harvest a great many birds. More added history.
Regards,
Pat C."
back to Table Of Contents for Member Ramblings
---
Warning and Disclaimer. Only the most current printed Shooting Rules and Range Standing Orders and Match Standing Orders as issued by the N.O.S.A. Executive are official and they should be read, understood, and followed. If there is any question as to interpretation of a rule, or safety of a practice, immediately ask a member of the Executive or a Range Safety Officer before placing yourself or anyone or anything else at risk. Any activity involving firearms has inherent dangers. Some contents on this website may include personal opinions and experiences or practices that should not be emulated. Everyone viewing this website, or any other website or book or magazine or pamphlet or media source, is cautioned to seek professional advice first about anything written or implied or inferred. Your safety is your personal responsibility.

Copyright &copy 2023 Patrick C. for his writings and New Ontario Shooters Association for website structure. This site is copyrighted and no content may be reproduced by any means, including electronic, without written permission except for strictly personal use. Other websites wishing to post a link to this site are welcome to do so.

br>