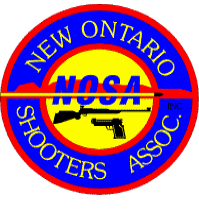 An Arctic Caribou and Seal Hunting Experience
Dec 2011 -- Warren W.
At the urging of Steve for member input to the website and Wes W.'s interesting accounts of Canadian Arctic hunts and scope problems, I was inspired to put pen to paper and offer a brief account of my hunt for caribou.
I first met Wes W. while returning from a hunt for caribou and seals in the Northwest Territories (now Nunavut) in 1987. On this hunt I partnered with another hunter from Toronto and together we were guided by an Inuit hunter and his two young sons out of Repulse Bay on the Arctic coast. Only the two boys spoke English and translated all conversation with the head guide. Travel along the coast was by a freighter canoe and 40 H.P. Yamaha motor. A tent camp was pitched at the end of each day on a pebbly beach sufficiently far enough away from the water's edge to allow the incoming tide at night to carry large ice bergs onto the beach. Caribou herds were abundant inland on the rolling tundra and we each took a bull within a day or two (not large as we were not seriously trophy hunting). He used a .300 Weatherby Magnum, the model of which I do not recall, while I used my Winchester Model 70 in .30-06 with handloads.
Seal hunting on the ocean was a real challenge. The bobbing canoe coupled with the wave-tossing, grapefruit-sized heads of ringed seals meant far more misses than hits. A seal would appear only for a few seconds to gulp in air and, if a hit was scored, it had to be quickly retrieved before it sank. We each managed to bag one or two and gave them to the natives for food and skins. Warm, waterproof footwear and mitts are fashioned from seal skins, and caribou hides serve as sleeping robes.
Many stories were told of hunting adventures, including a few hair-raising accounts with polar bears (Wes can attest to that one). On this trip we did not see any bears nor did any visit our tent camps at night.
Other highlights included a visit to an island where 19th century whalers over-wintered in their ships locked in the ice. A few died and their graves could be seen there. With endless days waiting for summer break-up, some would carve their names or make drawings of their ships on the granite faces of the island. These we viewed and wondered at the hardship these men must have endured.
In retrospect, this was an enjoyable adventure coupled with the tasty meals of caribou steak and Arctic Char served at the lodge at Repulse Bay.
Best wishes to all and continue to be safe at our ranges.
Click on the individual images here to see a larger view.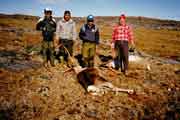 Caribou taken
with our
Inuit guides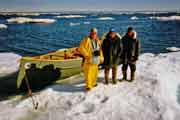 Landing on an ice
flow for lunch
and brewing tea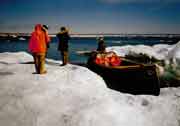 Seal hunting
amid ice flows
in summer
A Brief Note About Warren: Most of you know him as our club safety officer responsible to ensure that new members are trained to safely handle handguns and are cognizant of club rules and firearm regulations. He has been teaching the club level handgun course since the mid 90's, and also general firearm safety for more than nine years while a manager at Canadian Tire.
back to Table Of Contents for Member Ramblings
---
Warning and Disclaimer. Only the most current printed Shooting Rules and Range Standing Orders and Match Standing Orders as issued by the N.O.S.A. Executive are official and they should be read, understood, and followed. If there is any question as to interpretation of a rule, or safety of a practice, immediately ask a member of the Executive or a Range Safety Officer before placing yourself or anyone or anything else at risk. Any activity involving firearms has inherent dangers. Some contents on this website may include personal opinions and experiences or practices that should not be emulated. Everyone viewing this website, or any other website or book or magazine or pamphlet or media source, is cautioned to seek professional advice first about anything written or implied or inferred. Your safety is your personal responsibility.

Copyright © 2010 - 2012 New Ontario Shooters Association. This site is copyrighted and no content may be reproduced by any means, including electronic, without written permission except for strictly personal use. Other websites wishing to post a link to this site are welcome to do so.

br>