Note from the Webmaster. In July 2012 Wes was still in the Canadian Arctic on a walrus hunt when he received one of NOSA's News Updates. It is still amazing to me when our e-mails reach our members most anywhere on the planet, whether they are in Africa as Wes was for a lion hunt earlier this year, or in the still frigid expanse of Nunavut. You can find Hall Beach near the center of the map here for Wes's general location when he e-mailed the following report about his latest adventure.
Hi Steve,
Thank you for the update; your writing and thoughts are a delight to expats like me...reconciled to life adrift on an ice-floe...with warm remembrances of the joys of summer shooting....
Anyhow, I almost made it home...but fog and aircraft schedules have postponed that event for an indeterminate time. I understand that you folks in the lower latitudes have enjoyed / suffered a warm season so far. Here, quite the opposite...so "Global warming" isn't so global...the ice has been a battle so far. First, the "spring" here is about 2 weeks later than normal, and the ice cover is thicker and more tenacious than most folks remember.
I was supposed to be on a walrus hunt about 2 weeks ago. According to most guesstimates, that was quite reasonable. Mother Nature thought otherwise. So, since water was nowhere in sight under the heavy ice, I resorted to ATV travel on the land and managed to get some char fishing done...thanks to a swift flowing river that had cut a path into the freshwater ice. After that week's delay, we returned to the village with hopes of open water...no such luck.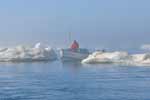 But, forever hopeful, we took a full day to chop the lower units of the outboard motors free from the frozen mud that trapped them since last year. And worked like mad to convey the boats about 6 km to where some sea-ice had parted. I really, really now begin to grasp how Franklin's men felt as they watched the ice NOT melt for the second year. We prevailed. Wind and tide worked their magic, and the forever-ice split into fragments...and we managed to launch.
Pushing between chunks of ice the size of parking-lots, we penetrated the pack in search of walrus...about 16 miles in, we noticed a shift of current and wind, and wisely beat a retreat. We just reached our camp, when the shifting ice slammed the door shut with the sound of two locomotives crashing as pack ice battled floe-edge. A boat would have been crushed like a beer can. That was fun...so we tried it again next day...that's when the fog added to the mix just for novelty.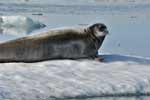 End result...no walrus...but we did see a number of Ring and Bearded Seals...and managed to stay intact. We amused ourselves back at camp with some long range ice-floe targets...like shooting the enemy...but no visible change really happened...fun anyway.
The internet here is very slow, but I'll try to send a couple of reduced photos for your entertainment...and edification..."heat wave" isn't often used up here.
Keep happy....good shooting....Wes