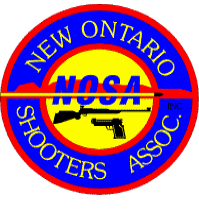 Canon 10x30 IS (Image Stabilized) Binoculars
October 2011 -- Banacek
Make: Canon
Model: 10x30 IS
Description: Binoculars
Specifications: 10 power magnification with 30 mm objective lenses; Porro prism with center-wheel focus; push button for IS function, 6 degrees field of view, focal range 13.8 feet to infinity, correction for vision; foldable eyecups for use with glasses; 21.2 ounces plus two AA batteries.
Intended Purpose: Sporting and general use.
Rating Opinion: 5- out of 5.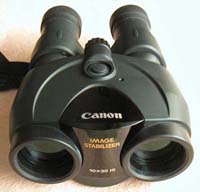 I have used most styles and designs of binoculars over the past 50 years. Generally you have to play off the various binocular features against one another. Heavier weight means more stable viewing when held by a regular, breathing, human being. Lighter weight means easier to carry, but harder to hold still. Higher power also means harder to hold still as the increased magnification increases apparent shake, and eventual eyestrain. Add in the further variables of light gathering ability and cost and you can have a truly hard time making a choice.
Of course, perhaps the best option is a specialty binocular for the task at hand. (That option certainly works until the money runs out ;-)
For many years my carry-everywhere compromise was a Bushnell Custom Compact 7x26 model. And it still is a favourite carry-everywhere choice today. You can read about those binoculars elsewhere on this website.
I still longed for something with a bit more power; but those models immediately introduced annoying and unpleasant shake. A ship's name to read, or bird feature to identify, may appear bigger but is actually hard to study closely for very long while trying to make out the fine detail. Headache and eyestrain can come quickly.
While in Germany I tried the most expensive roof prism binoulars in various powers. The optics were wonderfully bright and clear (when the binoculars were rested on a solid surface) but were little better for prolonged viewing than less expensive, but still good, brands when held normally. And cost ruled them out at the time.
As mentioned in the Bushnell review, a friend let me try his electronically stabilized binoculars, which were incredibly sharp and comfortable to look through -- but also on first impression seemed clunky to carry relative to my Bushnells. In any event they were past my budget, although nowhere near so expensive as the German optics.
Now I have had the opportunity to use them much more extensively, my opinion has changed for the better. They are a bit heavier than most binoculars of this power, but are still comfortable to carry. The slight extra weight contributes to more stability without being a hindrance to hiking. But wow, when that image stabilizer button is pressed, the image becomes incredibly sharp and easy to look at for a prolonged period.
Canon has apparently used the same technology here as in their image stabilized cameras, and it certainly works well. The power for the electronics is provided by two AA batteries. The actual battery type is optional. For quick viewing the binoculars perform normally and adequately without turning on the image stabilization feature. And most times when you do turn it on, it is only for a minute or two at a time. But if you want to know total battery duration, the continuous operating times at 25 C or 77 F temperatures are approximately:
4 hours for alkaline;
4 hours for Ni-Cd;
12 hours for lithium.
These battery choices are the same as in my Canon camera, and there too I have generally settled on using alkaline batteries -- without the hassle or expense or disadvantages of the rechargeable types. The other battery types only have a significant advantage in duration at really cold temperatures (temperatures that I don't particularly like either). Alkalines are available everywhere and work well. (Kinda like .308 Winchester ammo that way.)
The stabilized feature is available on other models of different powers and weights. Test them and discover if another one might be your preference. Do not be put off by the price as many high quality binoculars without image stabilization can cost much more.
Cost is a relative thing. You might initially regard these binoculars as expensive, but the same price will not buy you a new, better quality bolt action rifle. You can then pay double this amount just for a high quality telescopic sight that may get used less than 2 hours of total time in most years. The binoculars will bring a great many hours of pleasure annually whether on hunts checking deer antlers, or in the backyard watching bird visitors, and in a hundred other happy applications.
I gave the Canon the Rating Opinion of 5- as it is a quality product that is extremely successful in usability and meeting its design objectives. I would have given it a 5 but decided to leave a bit of room for the manufacturer to improve the product and/or reduce cost. But I really would not hold my breath in the meantime. As with most innovative products, waiting for changes before buying only deprives you of use and pleasure now. And how much more time have you really got? No guarantees there.
back to Table Of Contents for Member Ramblings
---
Warning and Disclaimer. Only the most current printed Shooting Rules and Range Standing Orders and Match Standing Orders as issued by the N.O.S.A. Executive are official and they should be read, understood, and followed. If there is any question as to interpretation of a rule, or safety of a practice, immediately ask a member of the Executive or a Range Safety Officer before placing yourself or anyone or anything else at risk. Any activity involving firearms has inherent dangers. Some contents on this website may include personal opinions and experiences or practices that should not be emulated. Everyone viewing this website, or any other website or book or magazine or pamphlet or media source, is cautioned to seek professional advice first about anything written or implied or inferred. Your safety is your personal responsibility.
Copyright © 2010 - 2013 New Ontario Shooters Association. This site is copyrighted and no content may be reproduced by any means, including electronic, without written permission except for strictly personal use. Other websites wishing to post a link to this site are welcome to do so.